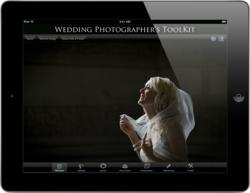 "This app truly encompasses everything I wish I knew when I started and will promise to be an energizing app as constantly work on your skill and knowledge." says John Wattenbarger, the creator and president of Sync ISD, LLC
(PRWEB) June 01, 2011
The Wedding Photographer's Toolkit is an App designed to get you shooting better looking, more professional photos for your clients and yourself. It's jammed packed with photography tips, tricks and how-to's for the modern day wedding photographer. Learn poses from the pose guide, get lens selections from the lens guide and learn retouching, composition and complete lighting all in one easy to navigate app. Use the toolkit section to learn about online resources, conferences that include sample contracts, shotlists and business forms.
The app easily navigates between photography essentials by using intuitive buttons and toolbars and high quality pictures as examples. The App is developed by experienced a professional wedding photographer sharing his knowledge base with current and future photographers. It provides opportunities to stay current with traditional and modern weddings as well as constantly advancing camera equipment and software.
WPT Feature Summary:
*Lightning information for the indoors, outdoors, ceremony, and reception.
*Lenses guide for different events including image gallery examples.
*Pose Guide for the different members of the wedding party.
*Composition of the picture that best captures that special moment.
*Retouching includes tips on how to use software to accentuate the pictures.
*ToolKit section includes constantly updatable information on camera equipment, workshops, books, conferences, contracts, shot-lists,and other online resources.
The App also provides links to Facebook and Tweeter and technical support through syncisd.com.
Pricing and Availability:
WPT is only $12.99 USD (or equivalent amount in other currencies) and available worldwide exclusively through the App Store in the Photography category on May 30th, 2011.
http://itunes.apple.com/us/app/wedding-photographers-toolkit/id440102914?mt=8
Device Requirements:
*Compatible with iPad
*76MB
Sync ISD, LLC is privately held and quickly growing company founded by IT specialist, photographer, and entrepreneur John Wattenbarger and his partner Assen Todorov. New ideas are constantly being developed for future releases in different categories.
(C) 2011 Sync ISD, LLC. All Rights Reserved. Apple, the Apple logo and iPad are registered trademarks of Apple Inc.
###