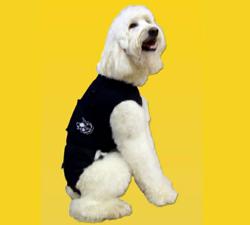 "We are absolutely thrilled to receive Five Star Approval from the American Pet Association"
Huntington, IN (PRWEB) June 06, 2011
The Original Anxiety Wrap® owned by Animals Plus, LLC, was awarded the coveted Five Star Product and Business Approval ratings from the American Pet Association (APA) today. APA provides the most ethical and reliable product, service, and business testing, inspection and feedback-based approvals for the pet industry and consumers. The Anxiety Wrap uses the techniques of Maintained Pressure and Acupressure to calm dogs and it is mainly used to relieve storm fear, separation and travel anxiety in dogs. It is the only patented pressure wrap on the market and was invented by Susan Sharpe, CPDT-KA, APDT, a certified professional dog trainer, in 2001.
"We are absolutely thrilled to receive Five Star Approval from the American Pet Association," comments Susan Sharpe, owner of Animals Plus, LLC, and co-owner of Canine Companion by Certified Trainers. "We've worked hard these past 10 years to maintain the Anxiety Wrap's high quality level and deliver excellent customer service while expanding operations to meet increasing consumer demand. It's rewarding to receive recognition of that accomplishment."
The timing of this award is notable as weather experts have recently announced the start of one of the worst summer storm seasons in history which can bring months of distress to thousands of dogs who suffer from storm fear. This is an issue where remedies are limited and consequences can be severe. The Humane Society of the United States said in their May 2010 article, "Fear Busters," that, "left untreated, storm phobias can have disastrous consequences." Owners who can't find a solution may relinquish dogs to shelters or euthanize them. Panicked dogs cause damage to the home, injury to themselves and many bolt from home, ending up lost. Storm fear can be present from birth or can manifest suddenly in older dogs. Dogs can also transfer their fear of thunder and lightning to rain and wind that accompany a storm and can display panic during sunny days when the wind kicks up.
Ms. Sharpe invented The Anxiety Wrap to help her clients' dogs remain calm during training or boarding. She utilized the technique of Maintained Pressure by putting T-shirts on dogs and started wrapping them with duct tape to apply more pressure to produce a greater calming effect. She studied Acupressure and incorporated that into the design. After 90 prototypes, she developed a comfortable, breathable "bodysuit" that a dog wears. The flexibility of the fabric, coupled with a snug fit, continuously reinforces the calming pressure as the animal moves about. While the method of Acupressure has been around for thousands of years, Maintained Pressure was first publicized by Dr. Temple Grandin, an autistic doctor who developed the "Hug Box," to help ease her own autistic symptoms.
"Storm and fireworks fear are our biggest uses, followed by travel anxiety, separation anxiety, jumping and barking," explains Ms. Sharpe. "Our 2010 unit sales increased 283% over 2009. While we're thrilled to see our sales increase so dramatically, it's tremendously gratifying that thousands of dogs are happy and stress-free. That's why we started our company ten years ago." The Anxiety Wrap, owned by Animals Plus, LLC, gives back through the Anxiety Wrap Charity Foster Program, whose staff rehabilitates, trains and finds loving homes for previously unwanted or un-trainable dogs. The Anxiety Wrap was successfully tested in a clinical trial at a world-renowned veterinary university (name forthcoming when results are published) and is currently involved in several other research trials.
Susan Sharpe's Tips to Manage Storm Fear
The Anxiety Wrap is easy and safe to use. After one brief storm-free introduction, the owner simply applies The Anxiety Wrap whenever the dog indicates a storm is approaching. If the owner is leaving the house/going to sleep, he/she can put The Anxiety Wrap on the dog beforehand. Some dogs respond immediately and sleep through the storm while others may require more wearings or take 30 minutes or longer to take effect. Ms. Sharpe, a 25-year veteran dog trainer, certified by the Association of Pet Dog Trainers and co-owner of Canine Companion by Certified Trainers, offers three simple tips:

One – Pinpoint the Cause of the Fear: Determine what part of the storm causes a dog to react. I.e., a dog that chases/barks at the lightning or thunder through the house might fare better in a covered crate while a radio or television plays nearby.
Two – Find a Safe Place: Help a dog find a safe place such as a window-free closet or bathroom. As long as the occupants of the house are okay with the location and the dog remains calm without undergoing further trauma, it's an acceptable solution.
Three - Redirect: Redirect a dog's focus to help him let go of his perceived danger. One can walk a dog through the house on leash and ask him to perform learned behaviors or go up and down stairs, etc.
Lastly – Remain Neutral: It's very important to remain as neutral as possible. The latest information from top trainers says it's okay to pet or reassure a dog that's fearful as long as the owner remains calm and doesn't raise his/her voice or anxiety level.
One way to try and prevent thunderstorm fear from ever developing is to make the most out of that critical first year of puppyhood. Along with extensive socialization, Ms. Sharpe recommends playing ball or other fun activities with the puppy whenever a storm/loud noise occurs while the puppy is not showing any signs of fear and to reinforce this over the years. Many dogs have suddenly shown fear of storms at age seven and higher.
Anxiety Wrap Information:
The Anxiety Wrap holds U.S. patent no. 6,820,574 and created the category of "Pressure Wraps" in the pet industry when it launched in 2001. It has been featured on Animal Planet's "It's Me or The Dog" with trainer Victoria Stillwell, The Today Show with trainer Andrea Arden, The Wall Street Journal, and was noted as a "fear buster" in the Humane Society of the United States' "All Animals" magazine. It was introduced at the 2002 AVMA Convention as a novel way to work with thunderstorm fear by Dr. Barbara Simpson. The Anxiety Wrap has received acclaim on radio, TV and in major trade magazines and its trademarked brand name is often used as a general term in the pet industry to describe all pressure wraps on the market. It is sold on various online and print pet catalogs as well as stand-alone pet stores across the United States and is used by pet owners, veterinarians, trainers, behaviorists and Tellington Touch Practitioners in all 50 U.S. states, Canada, Australia, U.K., Poland, Spain, South Africa, Mexico, Japan and Hong Kong.
Bonus: Additional tips from Susan Sharpe to end storm fear.
1. Turn the lights on to reduce the contrast between the strikes of lightning and the darkening skies.
2. Gently place cotton ball in each hear to muffle the sound of the thunder.
3. Turn on TV, radio or noisy fan to also muffle the sound of the thunder.
4. Dampen the Anxiety Wrap to prevent the dog from feeling a static charge.
5. If the dog can be crated (some dogs will panic) place a light cover over the crate to help block the lightning from being seen.
6. Close the curtains to help prevent lightning from being seen.
7. Make sure the dog can get into a dark closet or other windowless room.
American Pet Association Information
The American Pet Association (APA) was founded in 1991 and provides the most ethical and reliable product, service, and business testing, inspection and feedback-based approvals. They do not accept corporate donations or sell advertising on their web sites or newsletters. The approval fee is solely to cover the process of approval, and approval is never guaranteed. Consumers are encouraged to leave feedback for APA approved businesses and products and the APA will mediate any unresolved issues, free of charge. http://www.apaapproved.com; and http://www.apapets.org.
###