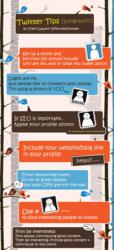 Tulsa, OK (PRWEB) June 01, 2011
For those just getting started on the social networking juggernaut Twitter, the new Infographic by Party Aficionado provides over forty Twitter tips.
According to Wikipedia, Twitter is a website which offers a social networking and microblogging service, enabling its users to send and read messages called tweets. Tweets are text-based posts of up to 140 characters, displayed on the user's profile page.
Unfortunately, the Wikipedia description does little to explain why millions of people find Twitter so addictive.
"A few weeks ago I posted a few of my favorite Twitter Tips," said Cheryl Lawson, Social Marketing specialist and founder of Party Aficionado. "Many people who follow me are new to Twitter and I often get questions as people begin to use the microblogging site."
Creatively broken down into Tweet sized Tips,140 characters or less, Lawson provides a virtual Twitter 101 in graphical form. To see the full infographic visit: How To Use Twitter Infographic.
About Party Aficionado
Party Aficionado is a leading social marketing firm specializing in event marketing, social media marketing, internet marketing, and PR. To learn more visit Partyaficionado.com
About Cheryl Lawson
Cheryl Lawson is a sought after speaker, educator, event and social marketing specialist. Cheryl is the owner and founder of the social marketing firm, Party Aficionado, and creator of the Event Planning Tools mobile app.
Cheryl is also a self published Children's book author of The Adventures of Precious the Dog series, and she is the mastermind behind Social Media Tulsa. As a professor, Cheryl teaches Marketing courses for the University of California - Riverside, and Event Management courses for Devry University. To book Cheryl as a speaker visit http://cheryllawson.co/
###