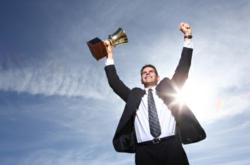 We have won several Government contracts which we couldn't even have attempted without ISO 9001.
Sevenoaks, Kent (PRWEB UK) 1 June 2011
According to data from the British Assessment Bureau's (BAB) independent 2011 Client Satisfaction Survey, 44% of respondents said that they had won business as a result of becoming certified to the ISO 9001 quality management standard.
The survey, which was carried out by specialist market research organisation, Lake Market Research (LMR), showed that for many organisations, the prospect of winning more work was the primary motivation for implementing the standard. When asked, 57% said that a client requirement motivated them to obtain certification; with 31% responding that winning more business was their incentive.
For more than 20 years,ISO 9001 has been recognised as the ideal way to prove an organisation has a quality management system in place. Starting life as QS 9000 in the 1970s, it grew from a British Standard to an internationally recognised ISO standard in 1987. Since then, public and private sector organisations have stipulated ISO 9001 certification when awarding contracts so they can ensure potential suppliers meet expectations.
ISO 9001 is intended to help improve internal management processes, leading to greater efficiency. However, 'improving internal processes' was only the third most popular reason for seeking ISO 9001 certification, with 24% confirming this. However, the results of BAB Client Satisfaction Survey didn't prove a surprise to BAB's Director of Marketing, Robert Fenn. He commented:
"Prospective clients have often mentioned that they require the standard to qualify for a particular tender. However, what we didn't know is how many of our clients had actually won work as a direct result of achieving certification. With the latest results now in, we're delighted to confirm that certified organisations are getting the reward they deserve from implementing a robust, recognised quality management system."
Verbatim feedback from the survey backed up the figures, with some clients suggesting that ISO 9001 carried real weight. Debbie Horlock from Screenfix Windscreens said, "We have won several Government contracts which we couldn't even have attempted without ISO 9001."
It isn't only Government that insist on certification either, with Christian Stoneham from Masters Exhibitions & Shows saying "We are starting to win new accounts that we could not have approached in the past as they insisted on having ISO 9001"
BAB is accredited and regulated by UKAS. This ensures that BAB is impartial, objective and competent to undertake certification and they comply with the ISO standard ISO 17021. UKAS is the sole National Accreditation Body recognised by Government and UK businesses and the public sector are encouraged by the Department for Business, Innovation & Skills (BIS) to seek UKAS accredited certification where it is available.
This has proven essential for some of BAB's clients that have applied for central and local Government tenders. Rhian Wilcox from the Spectra Group (UK) highlighted this in her comments, saying "The amount of work coming in has increased especially with the UKAS accreditation."
ISO, who publish over 18,000 standards worldwide, commissioned their own survey in 2009 which showed that there over 40,000 ISO 9001 certificates were issued in the UK in that year. With 96% of BAB's clients recommending the standard to other organisations, that figure looks set to increase.
To view all of the facts and figures from BAB's independent 2011 Client Satisfaction Survey, please visit http://www.british-assessment.co.uk/survey
###