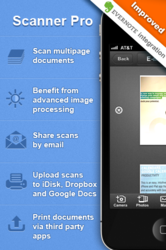 One year ago we added Evernote support to Scanner Pro. More and more people are using this feature daily
Odessa, Ukraine (PRWEB) June 01, 2011
Today, Readdle updates Scanner Pro, its most popular iOS application that turns the iPhone into portable scanner. Scanner Pro 3.1.1 now transfers location data while uploading snapshots to Evernote, making it easy to store its geographical context.
Evernote is a web service designed for notetaking, organizing and archiving essential information. Both free and paid Evernote subscribers can capture printed documents, receipts and even handwritten notes with Scanner Pro and convert them into searchable notes.
To make the integration as smooth as possible, Scanner Pro relies on Evernote tags and notebooks, allowing users to control the way notes are uploaded. The latest update of Scanner Pro also uploads note location to Evernote servers.
"One year ago we added Evernote support to Scanner Pro. More and more people are using this feature daily," says Alex Tyagulsky, Readdle CMO. "Today we have updated Scanner Pro with improved Evernote compatibility making it easy to remember "where" the note was taken."
At the same time Scanner Pro 3.1.1 implements several users suggestions. The most important is the ability to select a default folder on Dropbox where the scans will be uploaded.
Pricing and Availability:
Scanner Pro 3.1.1 is available on Apple App Store at $6.99 to the new customers and as a free upgrade for existing users. Enterprise licensing available upon request.
###