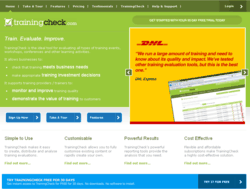 "We developed TrainingCheck.com because we felt that existing training evaluation options did not meet the needs of most organisations and individuals who purchase, manage or deliver training."
Cardiff, UK (PRWEB UK) 1 June 2011
TrainingCheck.com is a new website which offers an innovative approach to creating, delivering and reporting on training evaluations by combining survey technology with dedicated training evaluation content.
"We developed TrainingCheck.com because we felt that the existing training evaluation options did not meet the needs of most organisations and individuals who deliver, manage or purchase training." said Dominic Rapley, Managing Director of Training Check Ltd.
"Essentially you had a choice between buying in expensive consultancy or using a basic survey tool without any guidance as to what makes a good set of evaluation questions or how to evaluate training well. We wanted to offer something in between - the core functionality of a survey tool together with professional training evaluation content and guidance."
Ready-Made Training Evaluation Forms and Question Library - Part of TrainingCheck.com's approach is to provide a range of 'expert', ready-made evaluation forms (surveys) which can be used as they are or customised. They range from simple 'Participant Reaction' evaluations through to 'Job Impact' and 'Business Impact' evaluations aimed at business managers.
These example training evaluation forms are not intended to be completely prescriptive though, and anyone wanting to create their own evaluations can do so by using 'optimised' questions from an extensive Question Library or by creating new questions using 16 different question types, such as multiple-choice, rating, ranking etc.
Return on Investment – Measuring the Return on Investment (ROI) in training has always been something of a 'holy grail' within the world of training and development, and TrainingCheck.com also offers a solution for this.
As Dominic Rapley explained, "Measuring training ROI can be important, and senior managers are often keen to know the bottom-line impact of training, so we wanted to help our users measure ROI as effectively as possible. Our ROI Calculator allows you to identify financial benefits from training and compare these with the costs. It then automatically creates a report on the ROI percent, cost to benefit ratio and the 'payback period', that is, the time it takes to repay the investment."
These features, together with the ability to collect evaluation feedback by email, on paper or via a web site, mean that TrainingCheck.com looks well-positioned to meet the growing demand to move the management and analysis of training evaluations online.
For more information visit http://www.TrainingCheck.com
# # #