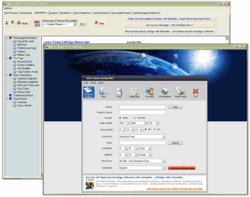 Kochi, Kerala, India (PRWEB) June 01, 2011
Astro-Vision Futuretech Pvt. Ltd., a world leader in astrology software development, has announced the launch of a free to download application designed to help students and enthusiasts explore the cosmological system of Vedic astrology. The free astrology software is suitable for all users including beginners as well as expert astrologers.
Vedic astrology refers to the ancient Hindu system of astrology and astronomy comprising Siddhanta (astronomy), Samhita and Hora (mundane and predictive astrology).
Based on the sidereal zodiac, Vedic astrology serves to explain or explore the relationship between the macrocosm and the microcosm, which is a deeply entrenched spiritual and philosophical schema. Astro-Vision Futuretech aims to enhance peripheral understanding of the Vedic scriptures (the Vedas) through Astro-Vision Lifesign Mini, its highly accessible new astrology software.
COO of Astro-Vision Futuretech, Mr Manoj GS, announced: "We are immensely excited to be able to offer Astro-Vision Lifesign Mini for free to our customers. Vedic astrology is an integral aspect of the Hindu way of life, but it is also a supremely beneficial system of knowledge and spiritual learning for all people. Our free software brings this ancient branch of astrology to the masses".
Astro-Vision hopes its new application will introduce more people to the enlightened world of astrology. In particular, the company aims to attract people of various ages and from all walks of life to Vedic astrology, which is considered by many to be capable of enriching both mind and soul. In order to ensure that Astro-Vision Lifesign Mini achieves its objectives, Astro-Vision has released the software at no cost to users; furthermore, the application is available in a number of languages.
MD of Astro-Vision Futuretech, Mr Arjun RP added, "We are delighted to supply the software for free – charging users to download the tool would not have been right considering our aim to broaden the interest in Vedic astrology.
"Our developers worked extremely hard to ensure that we provided as much support as possible to a greater number of users. That's why Lifesign Mini prepares astrological predictions in multiple languages, including English, Hindi, Tamil and Bengali".
Astro-Vision Lifesign Mini also provides horoscopes in Marathi, Malayalam, Telugu and Kannada, while chart styles adopt various formats, such as Bengali, Kerala and North or South Indian. The software is designed to support a range of ayanamsa options, which are explained to new astrology students and include Chitra Paksha, Lahiri, Raman, Krishnamurthy and Thirukanitham variables.
Lifesign Mini provides a selection of Panchanga predictions based on various settings (e.g., birth star, weekday, lunar day and karana), while Bhava predictions are available to explore how the cosmos affects an individual's character, status, physical stature and so on.
Mr Manoj GS concluded: "With so many options and settings available, we surprised even ourselves when we confirmed the decision to launch the software free of charge. Lifesign Mini is a comprehensive application that should help many people build and understand their horoscopes".
Users can download Lifesign Mini for free by clicking here.
About Astro-Vision Futuretech Pvt. Ltd.
Astro-Vision Futuretech Pvt. Ltd. has been offering astrology software products and services to people across the globe for more than two decades. Astro-Vision's current focus is on providing innovative astrology solutions using the latest technologies in the field of IT and communications. From Desktop PCs to internet portals and mobiles phones Astro-Vision's range of Astrology solutions includes stand alone applications, online apps, mobile apps and astrology content services. Many popular websites today are powered by Astro-Vision's web based astrology solutions and astrology content.
###