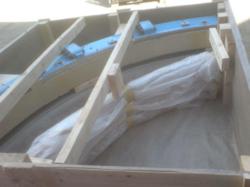 This is the kind of packing and logistics project that combines all our case making, packing, shipping and customs clearance expertise... It's what we do every day – but delivering to a dam was certainly another first for us!
(PRWEB UK) 2 June 2011
UK-based export packing specialists IES have supplied bespoke packing to protect three giant turbine shaft seals manufactured by Somerset-based SM Seals. The mechanical shaft seals are each more than 13 feet (4 m) in diameter and weigh in excess of 4 tonnes (8800 lb). They're being installed in Washington State's Grand Coulee Dam – the world's fourth-largest. Once in place, they'll reduce allowable leakage by 90 per cent and increase turbine efficiency at the 6809 MW generating plant by 1 per cent. That's worth around $3 million per year to the client, the Bureau of Reclamation.
It was essential that IES ensured top quality wooden crates and faultless shipping. This was due to the implications for completing the powerplant overhaul and the financial penalties if the stainless steel and aluminium bronze seals arrived damaged or late.
Bespoke export packing for freighting to Washington State
The precision seals were disassembled into four segments for shipping. Their delivery journey from Somerset took them via South Wales, Tilbury docks, the Panama Canal and Seattle, Washington. They then made a 230-mile road journey to the dam.
'Like changing your car engine...under your desk'
To meet the client's needs, SM Seals designed and manufactured each seal to fit through an 18" x 30" (457 x 762 mm) access hole. The available axial space was less than 18" (457 mm) and all components had to be manhandled into place. It was a procedure that SM Seals likened to 'changing your car engine, without lifting equipment, in a space smaller than that under your desk.' Because each segment joint presented a potential leak path, the fabrication and machining company (3Ks Engineering, Llanelli) also faced a major challenge to get each joint-face absolutely flat, perpendicular and flaw free.
A tough case-making challenge
To ensure the seals' safe arrival, the IES crate making team, worked closely with SM Seals. Together, they ensured that the bespoke wooden cases (ISPM 15 heat-treated, internally braced and lined with waterproof paper) would fit into one standard shipping container. In a challenge typical of IES export packing projects, each case had to be strong enough to stack three-high. The contents also had to remain in-gauge (staying within the open-topped container's frame). With approximately 1000 kg (2205 lb) in each crate, each also had to be able to support 3000 kg (6614lb).
Tight deadlines and financial penalties
As well as the challenge of the crates' construction, IES worked to a tight project timescale. To make their client's deadline, the consignment had to be on a specific vessel on a specified day. There were substantial financial penalties if SM Seals didn't deliver on time. Failure of the crates in transit could also have damaged the expensive precision-made seals, leaving the dam with insufficient seals for its refurbishment. The result? Further financial penalties.
'A successful partnership with SM Seals'
Speaking about the project, IES managing director Niels Morch says:
'This is the kind of packing and logistics project that combines all our case making, packing, shipping and customs clearance expertise. We worked closely with SM Seals and they put complete trust in us for the time-sensitive work. It's always rewarding when you have a proactive customer. Someone who's willing to trust you and work in partnership to achieve on-time delivery, at the right place with no consignment damage. It's what we do every day – but delivering to a dam was certainly another first for us!'
Since 1991, Bristol, UK-based IES has developed specialist expertise in export packing, case making, freighting and customs clearance. Around the world, bespoke packing is complemented by IES freight forwarding services that save customers time and money. IES services free them from the worry of damage in transit, and ensure achievement of delivery deadlines too. Other specialist IES engineering services include these:

Case making (including ISPM 15 cases and ISPM15 crates)
Logistics services
Business relocation services
Equipment modification
Machine and other equipment moves
Machine installation
Engineering programme management.
These integrated services make IES the perfect one-stop partner for organisations in a wide-range of industries.
S M Seals
S M Seals, based in Somerset, UK, specialises in designing, testing, manufacturing and supplying an extensive range of mechanical sealing products for the power generation industry. S M Seals has particular expertise in axial-type main shaft seals for hydropower applications (including water turbines, reversible pump turbines and large cooling water pumps) and has seals installed at over 270 sites around the world.
###