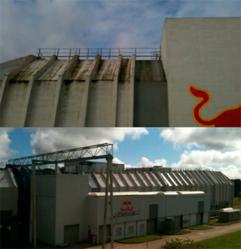 ... our DOFF steam cleaning system ... has safeguarded an important facility for Red Bull Formula 1 technology, allowing them to continue to use the building with total confidence
Milton Keynes, UK (PRWEB UK) 1 June 2011
Leading UK building restoration company Reeda have recently celebrated the completion of their contract with F1's Red Bull Technology, having successfully undertaken a substantial building cleaning project on Red Bull Technology's uniquely structured wind tunnel.
When the Milton Keynes-based F1 team moved into their current site, they effectively inherited the wind tunnel structure formerly used by the likes of British Aerospace (now BAE Systems) and Concorde to develop their pioneering aircraft. Red Bull Technology now uses the wind tunnel to test aerodynamics on scale models of their F1 cars, but until recently cleaning access to the tunnel was limited, and as a result algae, lichen and organic matter had built up on the building's facade and roof surfaces.
On winning this prestigious contract, building cleaning specialists Reeda have been able to restore the building to not only reinforce the structural integrity of this important facility, but to also brought aesthetic integrity to the building, reflecting Red Bull's professional and contemporary branding and profile.
Reeda Director Dave Evans explains some of the benefits of building cleaning that were utilised during the Red Bull Technology contract,
"The Red Bull Technology wind tunnel is a unique, intricate building, and previously gaining access for cleaning was difficult and deemed costly. On allocation of this contract, our priority was to eradicate the build up of algae, lichen and other organic matter from the building's facade and roof surfaces. As a result of our preliminary tests, we found that our most suitable and effective technique was our DOFF steam cleaning system, a high temperature method that not only sensitively removes organic matter from the surface of the building's facade, but also helps to prevent future build ups of lichen and algae by killing spores that could lead to quick regrowth. Ultimately this has safeguarded an important facility for Red Bull Formula 1 technology, allowing them to continue to use the building with total confidence as they continue to develop their championship-winning cars."
The Importance of Building Cleaning
The removal of organic matter such as lichen and algae is a vital aspect of building maintenance and building cleaning services, playing an important role in the future protection and preservation of modern buildings. This is because over time, building materials that are subjected to organic matter such as lichen can degrade, causing brickwork spalling and costly damage to a building's facade. Lichen, algae, and other organic matter also retain moisture and can excrete natural acids, causing further problems with building surface degradation.
The DOFF cleaning system adopted for the cleaning of Red Bull Technology's wind tunnel negated any need for chemical biocides, and helped to reduce the likelihood of internal damp from weakened locations within the facade.
More information about the Red Bull Technology building cleaning project and Reeda's professional building cleaning services can be found at http://www.reeda.co.uk
About Reeda
Reeda is one of the UK's leading profession building cleaning service providers, specialising in stone cleaning, contemporary and historic or heritage building restoration and building protection in London and throughout the UK. Reeda undertake complete project management, and through their comprehensive building cleaning and restoration services, help businesses and organisations to enhance and protect their investment in property whilst protecting and supporting their brand and profile.
###