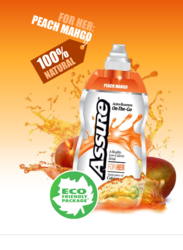 We are committed to be the good for you good for earth beverage company

Chuck Miller EVP Assure Food & Beverage
Los Angeles, CA (PRWEB) June 02, 2011
The Fresh Market prides itself in offering its customers fresh unique, and hard to find products, and is now first to market with Assure Water and it's unigue packaging and relevant targeted functions and at the same time creating a new category in the highly competitive hydration beverage arena.
Chuck Miller, VP Sales & Marketing for Assure Water stated "consumers have been searching for a product that can truly fit their On-The-Go lifestyles while providing function, environment friendly packaging, certified quality control with Kosher & Halal certifications all while addressing the Ease of Use of the packaging that can easily be put into back packs, purses or even your pocket. We have trademarked the packaging and believe we have the next coke bottle"
For years people have enjoyed the convenience of bottled water. But now, thanks to three years of development and research in innovation of Assure Healthy Waters will do more than just hydrate your body but also good for earth.
Consumers have always been reactive for the next innovation that will meet their needs as well what will make sense for them in their everyday lives but also something that is good for them and the environment as well. Assure Water is first to market with a pouch delivery system with a sports cap. Coupled with cutting edge ingredient's like D-Ribose, Omega 3, Acai as just a few of the Healthy beverage lineup clearly leads the industry into a new phase in meeting consumers' expectations in the hydration category.
About The Fresh Market
The Fresh Market (NASDAQ: TFM) is a chain of gourmet supermarkets based in Greensboro, North Carolina. The Fresh Market was founded by Ray and Beverly Berry on March 8, 1982 in Greensboro, North Carolina. The Berry's idea was to develop a better grocery store that brought back the feeling of open European style markets. The Fresh Market, as of January 2011, evolved into a chain of 125 stores in 18 southern, Midwestern, Midatlantic, and New England states. The Fresh Market prides itself in offering its customers fresh, unique, and hard to find products. Each store features a meat and seafood counter, full service deli, extensive cheese counter, bakery, florist/gift shop, impressive selection of beer, wine and spirits, as well as groceries, frozen foods, dairy products, coffee, candy, bulk foods, and exquisite produce.
After increasing the price of its initial public offering from $18–20 to $22, Fresh Market raised $290 million, and on November 5, 2010, began trading on Nasdaq using the symbol TFM.
Assure Water and The Fresh Market will be looking forward expanding their relationship to include all six flavors as brand awareness grows, through various promotional mediums. This includes circular/ad sales, displays sampling events and joint promotions.
###