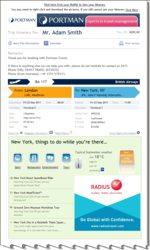 Our new, dynamic and interactive Portman Trip Planner will replace the traditional email itinerary and assist us in reaching our goal to provide a true one-stop approach providing exceptional service to our clients
Atlanta, GA (PRWEB) June 28, 2011
truvle Ltd. (http://www.truvle.com), a leading provider of e-confirmation to the travel industry, announced today its partnership with Portman Travel, in launching the 'Portman Trip Planner' (PTP) at BTM 2011 . Portman, one of the UK's longest-established forces in travel management, launched this web-based interactive email solution which encompasses a personalized website offering travelers seamless access to all of their travel arrangements at the office or on the move.
The PTP is a revolutionary mobile itinerary platform providing a central source of destination specific information through any device with an internet connection, saving the business traveler time by eliminating the need to search multiple websites for weather, restaurants, events, maps, currency exchange rates and more.
The truvle powered PTP is geared toward business travelers allowing for real time flight tracking, airline check-in links, as well as hotel and restaurant booking capabilities on-the-go. SMS alerts, synchronizing travel plans to calendar, and utilizing the print version, all assist in keeping busy travelers on track with their business and personal schedule.
Adrian Parkes, Chief Commercial Officer for Portman Travel said: "Portman Travel's goal is to provide a true one-stop approach to travel management companies. Our new, dynamic and interactive Portman Trip Planner will replace the traditional email itinerary and assist us in reaching this goal and providing exceptional service to our clients."
Alon Zaibert, Chief Executive Officer for truvle commented: "Our strategic partnership with a prominent travel management company like Portman Travel combines their excellent travel expertise with our forward thinking technology to empower the business traveler. We believe that they will be quick to recognize the productivity and efficiency of this tool."
About Portman Travel
Portman Travel was founded in 1959 and is one of the UK's longest-established travel management companies. The company is headed up by Chief Executive Officer, Michael Hare, who is also currently Chairman of the Guild of Travel Management Companies (GTMC). Portman Travel HQ is located at Chertsey, Surrey with fourteen other UK locations, plus numerous client implants. In addition, Portman has two wholly owned international operations - in Tralee, Ireland and in Amsterdam. Portman Travel is a founding shareholder of RADIUS, the global network for corporate travel management companies, which has an annual sales volume of USD $19 billion.
http://www.portmantravel.com
About truvle, Ltd.
Atlanta-based truvle is a new software company that develops enhanced email travel itineraries and airline e-tickets, providing passengers with customized trip information – flights as well as entertainment, shopping and dining options, hotels, nightlife, events, recreation, currency exchange rates, maps, etc. - in a single, easy-to-read format. The trailblazing e-tickets and itineraries offer a chance for travel professionals to generate extra income, while also enhancing their service. Advertisers gain exposure before a targeted audience of millions of travelers worldwide. truvle also has offices in Miami, Fla., Europe, India and Israel.
For more information, visit http://www.truvle.com
###