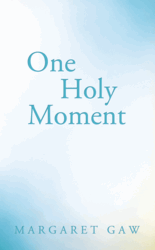 HOLY MOMENTS with God make a man of substance.
Mt. Pleasant, MI (PRWEB) June 02, 2011
One of the key tenets of Christianity is a calling to spread God's word. The written word is an effective way to reach large numbers of people, and one book can change hundreds, thousands and even millions of lives. Here with her own challenge to readers to embrace the Holy Spirit and dedicate themselves to Jesus Christ is Margaret Gaw in her new nonfiction guide, One Holy Moment (published by WestBow Press).
According to Gaw, life is filled with holy moments, and it's up to us to recognize them and cultivate more of them for ourselves and those around us. Knowing the specific roles God created for men and women is essential for spiritual growth and meaningful holy moments, and One Holy Moment begins by defining the traits and responsibilities God set forth for men and women.
"God has placed men under the headship of Christ," Gaw explains, arguing that men, created in God's image, are expected to be strong, confident leaders and providers devoted to God and family. "HOLY MOMENTS with God make a man of substance," the author writes. She then directs her attention to women, asserting that they must accept their role as "sidekick" and be "loyal, obedient and totally secure." One Holy Moment purports that properly balancing the characteristics of men and women is imperative to having successful marriages, raising well-adjusted children and living a life devoted to doing God's will.
After outlining biblically-based responsibilities and expectations of men and women, One Holy Moment turns its focus to strengthening one's faith in order to spread God's word. Making the choice to have a one-on-one relationship with God is a life-changing decision, and one that Gaw has experienced first-hand. She describes the positive changes that newfound faith brings to desire and attitude, but warns that a complete acceptance of and devotion to God, Jesus Christ and the Holy Spirit is necessary before making changes in the lives of others.
Personal anecdotes from Gaw's own life and biblical analysis support her arguments, and in eight short chapters she gives instructions for effective prayer, resisting Satan's influence and the benefits of turning to church leaders for advice and guidance. "God's people are the apple of his eye," Gaw writes, arming readers with the tools necessary to make a permanent change and find their own One Holy Moment. Whether you're looking to supplement your Bible study or are lost and looking for answers, One Holy Moment has something to offer for every stage on your journey to salvation.
About the Author
Margaret Gaw is a deeply devoted Christian and member of the Assembly of God church. She has worked with women's and children's ministries and taught Bible study and Sunday school classes. One Holy Moment is her first book.
WestBow Press is a strategic self-publishing alliance of Thomas Nelson, the world's premier Christian publisher, and Author Solutions, Inc. (ASI)—the world leader in the fastest-growing segment of publishing. For more information, visit http://www.westbowpress.com.
For review copies or interview requests, contact:
Marketing Services
Tel: 866-928-1240
Fax: 812-961-3133
Email: pressreleases(at)westbowpress(dot)com
(When requesting a review copy, please provide a street address.)
###