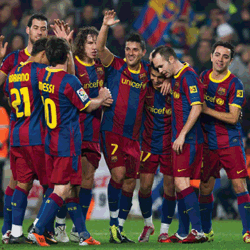 Seiko watches' commitment to performance and excellence makes it the perfect partner to FC Barcelona
(PRWEB UK) 2 June 2011
Seiko watches, available at the Watch Hut, are the watches of champions following FC Barcelona's success in winning their second Champions League title in just three years.
Seiko, one of the most popular brands available at the UK's largest watch website, earlier this year signed an agreement by which the world-recognised brand became the Barcelona team's Official Timekeeping Partner for the next three years.
The popular watchmaking company, founded in Japan in 1881, is already reaping the benefits of the partnership after the popular football team beat opponents Manchester Utd at London's Wembley Stadium on 28 May.
FC Barcelona's Champion League victory establishes them as the most successful club team in world football, and follows the team being awarded its third Spanish league title in a row when they won against rivals Levante Utd on 11 May. They walked away with the league title with two games to spare, and have now won the domestic league a total of 21 times.
Seiko's commitment to performance and excellence makes it the perfect partner to FC Barcelona. Seiko branding will feature on clocks on the Barcelona home stadium scoreboards, while the new Seiko Sportura collection will be presented against the background of FC Barcelona imagery in worldwide communications.
The Seiko Sportura collection is central to the ongoing partnership, with Sportura chosen as the official watch of the FC Barcelona Club. This summer, each member of the team will be presented with a Seiko Sportura boasting the FC Barcelona crest upon the dial.
2011 marks 130 years of Seiko watches and an impressive track record of achievements in sports timekeeping. Since Seiko was chosen as the Official Timer of the 1964 Olympic Games, the company has built a reputation for its commitment to superior timekeeping at global sports events that matches its reputation for technological innovation.
With Father's Day coming up, there's no better time to treat Dad to a watch of champions from the Watch Hut. The specialist watch website features an extensive range of Seiko watches including Sportura models and Seiko's famous Kinetic range.
For more information and to view Seiko watches and watches from other designer and prestigious brands, visit the Watch Hut.
###