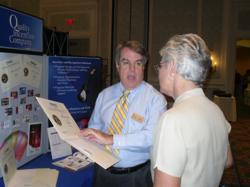 Looking forward to attending the show again this year. When I spend time with the Western folks I feel like I am leveraging marketing genius!" Bill Cooper, CEO, Stalwart
Wichita, KS (PRWEB) June 01, 2011
Western Associates, one of America's largest and oldest promotional product firms, has announced the dates for its annual "Christmas in October" events featuring top manufacturers of corporate apparel, promotional items, and Other Neat Stuff.
Each event will feature the nation's top promotional manufacturers including Swiss Army Brands, Cutter&Buck, Papermate, A.T. Cross, Nike, Columbia, Callaway, Meridian Metal Works, Bushnell and Leeds. Attendees must register but the trade-show formatted event is free to qualified buyers of promotional material.
"We appreciate the opportunity our clients get to "touch and feel" products as well as interact directly with and learn from our factory reps," said Dave Crofoot, President of Western Associates. (link http://www.westernassociates.com)
Tuesday, October 11, 2011 Wichita Boathouse, Wichita, Kansas
Wednesday, October 12, 2011 Ballantyne Hotel & Lodge, Charlotte, North Carolina
Thursday, October 13, 2011 Capital Plaza Hotel, Topeka, Kansas
Doors Open at 11:00AM and each show concludes at 3:00PM. For registration information and supplier details for each event, email barb@westernassociates.com.
"Looking forward to attending the show again this year. When I spend time with the Western folks I feel like I am leveraging marketing genius!" Bill Cooper, CEO, Stalwart
The Charlotte office of Western Associates is celebrating its 10th Christmas in October Show and for the second consecutive year is offering "29-Minute Power Sessions" during the event covering topics ranging from Speed Reading and Comprehension by Dr. Bruce Stewart of Execuread, Fearless and Actionable Social Media for your business by Chuck Robbins of aro, and Outrageous Marketing by Neat Stuff "Chancellor" Haines Maxwell.
"These sessions reinforce our passion for helping clients get results not just selling them a bunch of 'stuff' with their name on it," says Chancellor Maxwell. "Our Neat Stuff University initiative was launched a number of years ago to inspire and educate our clients in using promotional products to make an impact on their clients, prospects and employees."
###