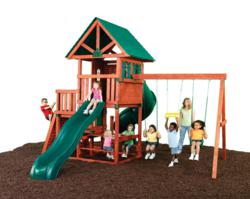 Boca Raton, FL (PRWEB) June 09, 2011
Swing Sets and Slides, a residential swing set company from Recreation Products, is running a contest for the fans of their Facebook page. From now until the end of June 2011, fans get the chance to show why they deserve a new swing set. Parents, grandparents or anyone else who has kids in their life can post a picture, share a video or tell a story of why they think they deserve one. Creativity is encouraged, so some really fun entries are expected. The winner will receive a $500 gift card to use on the site, enough for one of Swing Sets and Slides ready-to-assemble play sets.
For your chance to win, simply visit http://www.facebook.com/SwingSets and hit the "Like" button at the top of the page, enter your email address when asked, and then visit their wall and plead your case. You can find out more about the contest by watching this video: http://www.youtube.com/watch?v=Vl9yToskNu8. The winner will be announced in July 2011.
About Swing Sets and Slides
Swing Sets and Slides, by Recreation Products, provides residential swing sets and play sets for children of all ages. The company believes that a quality backyard swing set is the key to keeping children active at home. They carry a variety of backyard play products including swings, slides, monkey bars, climbing walls and more. Their ready-to-assemble swings sets will keep children engaged and active throughout their childhood.
###