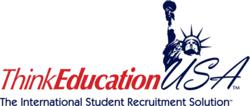 Vancouver, British Columbia (PRWEB) June 01, 2011
ThinkEducationUSA, the innovative print and online resource for helping U.S. colleges and universities recruit international students, released its new Mobile Web Application during the NAFSA 2011 Annual Conference & Expo.
The new ThinkEducationUSA Web app provides a way for students, parents and others to easily search for information on more than 4,000 American colleges and universities. The new app also includes videos from featured schools as well as multiple social networking links to facilitate interaction between students and schools they may be interested in attending.
"We are very excited about the release of this Mobile Web Application," said Greg Sandler, publisher of ThinkEducationUSA. "We believe this is the first cross-browser-compatible mobile app to use HTML 5 to facilitate school searches from any browser on any smartphone."
Since its launch in 2009, ThinkEducationUSA.com has become a popular search tool and information source for international students interested in studying in the USA. In addition to online video, the site features subtitles in 12 languages, as well as a sophisticated search engine. The site also integrates with Yelp!® to provide instant access to information about resources available near every college and university in the United States.
Other features on the ThinkEducationUSA site include an Online Question & Answer Forum and an informational brochure, translated into seven different languages. Last year, ThinkEducationUSA launched another industry first, the Discover Yourself in America Facebook Quiz Game. The game, accessible only to non-U.S. Facebook users, features questions about U.S. colleges and universities. Participants compete by answering questions correctly. Winners receive prizes, including branded merchandise from American schools.
ThinkEducationUSA also developed the popular "Find Colleges" iPhone App, available for free download from Apple's iTunes store.
About ThinkEducationUSA
ThinkEducationUSA.com is a dynamic new multimedia website for international students to learn about attending a college or university in the U.S. It was developed by ThinkGlobal Inc., based in Northampton, Massachusetts, USA, in cooperation with U.S. federal agencies and trade groups that are committed to promoting educational exchanges between the U.S. and other countries. This website includes data on all accredited colleges and universities in the United States and general information that will be helpful to international students who are interested in attending a U.S. college or university and profiles of particular educational institutions across the U.S.
###