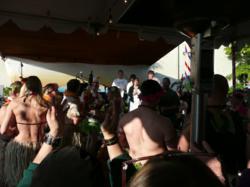 Grass skirts and coconuts a go-go!
Bellingham, WA (PRWEB) June 01, 2011
Local residents, Ernie and Velma Henken; owners of Wiki Wiki Park n Shuttle; sent out an announcement email to their 1st customers about the upcoming event happening on the eve of the annual Ski to Sea Marathon.
Alaska Airlines donated two roundtrip tickets from Bellingham to Honolulu and Wiki Wiki Park n Shuttle provided parking to the winner of the best costume and hula dance.
This amazing event took place at a local establishment, Boundary Bay Brewery on Saturday May 28th, the weather cooperated and people attended by the thousands. When the Hawaiian music started, things began shaking and the Hula Competition was on.
Gina Olsen; sales & community marketing manager with Alaska Airlines chose #6 as the winner. As people looked at their numbers, two began jumping up and down with great enthusiasm for winning. However, one of the number sixes was actually a nine.
Number six, Diana from Vancouver, BC won!
She and her husband Raf responded to an email announcing a chance to win 2 tickets to Hawaii. Diana "got her hula on" and took action.
A big congratulations from Wiki Wiki Park n Shuttle to one of their 1st customers!
About Wiki Wiki Park n Shuttle; Once Alaska Airlines announced direct flights to Honolulu from the Bellingham International Airport in the beginning of this year, Ernie and Velma Henken decided this was a good time to introduce off-site parking with a tropical theme and cater to such travelers. From their own experience of traveling, the where to find parking... how to get luggage from point A to point B, deal with traffic and uncertainties... can make traveling hard work. Wiki Wiki Park n Shuttle's goal is to take this stress away... and offer a relaxed atmosphere with added fun... ladies receive a silk lei, everyone is offered a family-friendly Hawaiian Mai Tai beverage as Ernie shares a few stories including a small ritual. Once the travelers board the Wiki Wiki Shuttle, they are serenaded with Hawaiian music right to the departure curb at the airport. Upon the traveler's return, the Wiki Wiki Shuttle is waiting at the curbside anxiously waiting to hear of the recent highlights. Once back at the parking facility approximately 3 miles distance on the frontage road of the Interstate 5, fresh Kona coffee is offered as well as hot chocolate to help warm up and wake up the overnight flyers. Everyone leaves with a bottle of water to help keep the hydration up while heading home.
Offering good old fashioned service and fun is what sets Wiki Wiki Park n Shuttle apart.
Wiki Wiki Park n Shuttle LLC, established March 2011
4770 Pacific Hwy, Bellingham, WA 98226
1.888.233.5523
wikiwikiparknshuttle.com
http://www.facebook.com/wikiwikiparknshuttle
info(at)wikiwikiparknshuttle(dot)com
Owners, Ernie and Velma Henken
###