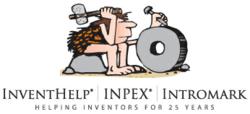 Pittsburgh, PA (PRWEB) June 01, 2011
InventHelp®, America's largest inventor service company, announces that one of its clients, an inventor from Indiana, has designed a tool that would facilitate the cutting of a gutter drop for an outlet for downspout attachments. This invention is patented.
The "Gutter Cutter" invention could ensure cleaner cuts and more precise measurements. The tool would be ideal for installation of all downspout types. The durable, easy-to-use design could save time and effort while improving job performance as well as safety. According to the inventor, who has used the Gutter Cutter many times, this tool could offer an efficient alternative to the traditional way of drilling, chiseling, sawing and cutting gutters.
The Gutter Cutter would consist of a tool that would measure approximately 2 ¾-inches long and 31/2-inches wide. The tool would be heat-tempered for long-lasting use. A user would "strike" the tool at a desired location to cut a precise hole. The Gutter Cutter could be producible in various sizes, which could include a fiber block for easy cutting.
InventHelp® is attempting to submit the invention to companies for review. If substantial interest is expressed, the company will attempt to negotiate for a sale or royalties for the inventor. For more information, telephone Dept. 08-INY-633 at (800) 851-6030.
# # #