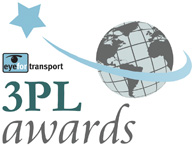 Atlanta, GA (PRWEB) June 01, 2011
The shortlist for this year's eyefortransport 3PL awards was announced after months of customer voting. The top three companies in each of nine categories now enter a final round of voting, before the winners are announced.
Each year the eyefortransport 3PL Awards aim to recognize those 3PLs that continuously deliver excellence in logistics operations and superior service to their customers. The awards are decided on by 3PL customers - the manufacturers and retailers who depend upon and work with logistics service providers everyday.
The winners of the final round of customer voting will be announced and celebrated at a Gala Dinner at the annual 3PL Summit & Chief Supply Chain Officer Forum – the major industry meeting place for 3PLs and 3PL users. The Gala Awards Dinner will be held at the Atlanta Aquarium on the evening of June 22nd, and will be attended by three hundred executives, including the CEOs of many top 3PLs, and VP & SVP supply chains from major customers.
"It's a very exciting year for the 3PL awards," said Katharine O'Reilly, the Executive Director of eyefortransport. "We've had a record number of votes, and it's clear that happy customers are really willing to support their best logistics partners. This represents a real sense of partnership in the industry, and reflects longer and more stable relationships that are a very positive trend."
Shortlisted companies for the eyefortransport North America 3PL Awards 2011
Best 3PL for Retail Goods
2011 Shortlisted Nominees: CH Robinson, Damco, NFI Industries
Best 3PL for Industrial Supply Chain
2011 Nominees: England Logistics, Logistics Management Solutions, Ryder SCS
Best 3PL for Hi-Tech & Electronics
2011 Nominees: DB Schenker, Menlo Worldwide, UPS SCS
Best 3PL for the Automotive Industry
2011 Nominees: England Logistics, Linc Logistics, Hub Group
Best 3PL for Pharmaceutical, Chemical & Hazmat
2011 Nominees: DHL-Exel, GENCO-ATC, Penske Logistics
Best 3PL for Consumer Goods
2011 Nominees: Jacobson Companies, Kenco Logistics Services, Transplace
Best 3PL for Fresh Food Supply Chain
2011 Nominees: CEVA Logistics, CH Robinson, Total Quality Logistics (TQL)
Best 3PL for Sustainability
2011 Nominees: England Logistics, Transplace, UPS-SCS
Best 3PL Offering for Renewable Energy
2011 Nominees: APL Logistics, DB Schenker, DHL-Exel
Visit http://events.eyefortransport.com/3pl/awards.shtml for further information, to vote for the finalists, and for details on past winners and past ceremony pictures.
"Recognizing superior service within the industry is very important to us at eyefortransport, and we are very excited to see the outcome of this year's awards. We're also pleased to introduce a new category to the North American awards this year, as we recognize the best 3PL offering for the renewable energy sector this year" said Katharine O'Reilly.
If you would like to attend or sponsor the Awards, or if you have any questions, get in touch today by contacting the Awards Marketing Director on the details below:
Annabel Savery
Director of Marketing and Communications
eyefortransport
US toll free: 1800 814 3459 ex.7504
CAN toll free: 1866 996 1235 ex.7504
World phone: +44 (0)207 375 7504
Email: asavery(at)eft(dot)com
Web: http://www.eft.com
###