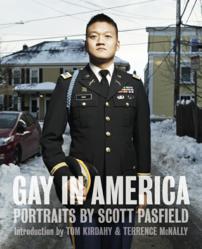 Sprawling, moving, and lively, Scott Pasfield's Gay in America shows what being a gay male looks, sounds, and feels like in today's USA. An inspiring cross section."
- Michael Musto, The Village Voice
New York, NY (PRWEB) June 01, 2011
New York City photographer Scott Pasfield and Welcome Books today announced the release of Gay In America, a groundbreaking, stereotype-shattering, unprecedented 224-page book of intimate photos and deeply personal stories from 140 gay American men. Introduced by activist Tom Kirdahy and his husband, playwright Terrence McNally, Gay In America will be in stores on September 27, 2011 and can be pre-ordered now on Amazon.com.
Photographer Scott Pasfield traveled 54,000 miles across all fifty states over a three-year span gathering stories and documenting the lives of gay men from all walks of life. At turns joyful and somber, reflective and celebratory, each narrative and image is an enlightening look into the variety of gay life in the United States.
"I wanted to create a book that would change opinions and educate; to produce a profound collection of ordinary, proud, out gay men who defy clichés and stereotypes," says Pasfield.
His striking and perceptive portraits reflect the same beautiful diversity found in any sampling of our population. Each of these men is unique and whole, complex and fallible, just as we all are. They come in every size and shape, every religion, color, profession, and background. There are farmers, writers, doctors, lawyers, artists, teachers, and students; there are fathers and husbands, activists, and businessmen. Some are successful, some are struggling, some are political, some are wealthy, some are wounded, and some are deeply content.
Their commonality draws from a single shared trait: their homosexuality. These are men who are attracted to men, and have chosen not to disguise that truth. For many, there have been harsh consequences to this decision, but also deep rewards. The message that prevails is one of great hope that true equality is close within our reach, if only we would grasp it.
Arriving in the Fall, Gay in America may very well be the capstone of what has been an extraordinary year for gay Americans, the foundation for which has been heroically laid by people like Dan Savage and Terry Miller–who have empowered millions with their It Gets Better Project, Andrew Goldberg, whose intimate PBS documentary "Out In America" will air nationwide on June 8, Dan Choi, whose outspoken anti-DADT activism continues to gain influence, governor Andrew Cuomo who said, "For me this is personal," regarding his forceful backing of same-sex marriage in the state of New York and President Obama, who in his State of the Union address this year stated, "Starting this year, no American will be forbidden from serving the country they love because of who they love."
Welcome Books, distributed by Random House, is a publisher of distinctive, exquisitely crafted visual books on a variety of subjects including art, photography, fashion, travel, parenting, and food.
For more information and to see a preview of the book, please visit http://www.gayinamerica.us.
###