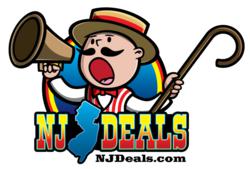 Somerset, NJ (PRWEB) June 02, 2011
For many New Jersey residents, the summer shore season is an indelible rite of passage that leaves many a lasting memory. Alternatively, for many New Jersey businesses, the start of the summer season means these vendors can acquire new customers as the migratory residents take up their summer residences. Subsequently, as the weather heats up, so does the rate of discount offerings many New Jersey businesses offer to consumers. Unfortunately, with limited summer advertising exposure, and little word of mouth, not many consumers take advantage of the multitude of New Jersey shopping discounts and coupons available to them. One website aims to diffuse this convoluted situation.
NJ Deals is pleased to announce the launch of its brand new group buying website that offers extreme discounts on one daily local New Jersey deal to its users and registered members. Not only can you find discounted NJ deals that saves you anywhere from 40% - 90% off everyday items & services, but the site has been designed so that receiving the discounted deals is extremely fast and easy.
When interviewed recently, company spokesperson Karch Alliax stated, "There are tons of great deals available on the Internet and at locally-owned businesses in the New Jersey area. The problem is that most people don't have the time to search for the best deals on everyday items & services; their lives are way too busy. And a majority of vendors aren't assured that their discounted offers are reaching its intended audience. As such, this savings inefficiency usually winds up costing the consumer."
"Users sign-up through our site at NJDeals.com, and we email them the deals we have available for their particular area. Our strategy has been to focus on everyday items & services that consumers need, like groceries, car services, daycare, etc. However, by no means does this mean we won't be carrying the extravagant luxury & exotic deals that consumers want as well… we simply want to focus on helping the underserved New Jersey consumer."
The deals being added to the site is constantly growing and NJ Deals plans on offering its users various flash deals and time-sensitive "Buy Now" deals in the near future. Moreover, a user can invite friends or family to join with them on some of the discount offerings and get an even bigger discount when they purchase.
ABOUT NJ DEALS
NJ Deals is a New Jersey based company that operates NJDeals.com, a hyperlocal group buying website that caters exclusively to the New Jersey consumer. The website offers discounted NJ Deals on everyday items at 40% - 90% off.
Karch Alliax
NJDeals.com
Ph.: 800-658-4305
100 Main Street
S. Bound Brook, NJ 08880 USA
info(at)njdeals(dot)com
http://www.njdeals.com
# # #