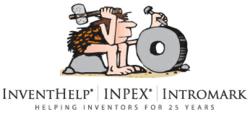 Pittsburgh, PA (PRWEB) June 03, 2011
InventHelp®, America's largest inventor service company, announces that one of its clients, an inventor from Canada, has designed mop attachments for boots that could reduce stress on body parts caused by conventional mopping techniques. This invention is patented.
The "Rubber Boot Floor Mop" would require less awkward movement than traditional mopping styles, thus reducing the risk of muscle strain, especially in the arms, back and hips. The design helps a user to clean floors more efficiently than with traditional mops as well as provide a more enjoyable way to clean floors. The adjustable attachments fit almost any rubber boot.
The Rubber Boot Floor Mop consists of boot attachments which would be producible from recycled rubber or plastic and rust-resistant metal. The design would include mop and brush components with accompanying screws that would control a wringing mechanism. The invention would include a 1-foot high pail with a lever. The pail would be large enough to accommodate a boot equipped with an attachment. One side of the pail would hold water and the other side would hold detergent. The attachments would feature three circular cleaning heads which would be arranged from heel to toe. A user would affix the attachments to the bottom of the rubber boots and adjust the length. The user would pour water and detergent into the pail, moisten the cleaning heads and then shuffle from side to side, as if skiing. The user would then step into the pail and push on the lever to squeeze excess water and detergent out.
InventHelp® is attempting to submit the invention to companies for review. If substantial interest is expressed, the company will attempt to negotiate for a sale or royalties for the inventor. For more information, telephone Dept. 02-JRM-145 at (800) 851-6030.