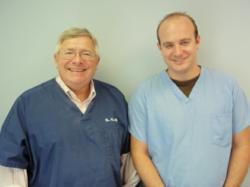 It's important to have a resident Periodontist to provide comprehensive care, prevention, detection, and treatment of periodontal disease,
Northford, CT (PRWEB) June 06, 2011
Northford Family Dental Drs. Joseph Connolly and David Sherberg have made dental visits more convenient for their patients by offering multiple services at one location. Since 1977, the practice has been providing a variety of family dental procedures including implant dentistry in Northford and New Haven, CT.
"In our fast-paced society, we know how difficult it is to get to the dentist. So to make it easier for our patients to see us, we've placed our office in the center of town and are open evenings and on weekends. We also make our patient's visits as quick and painless as possible using modern dental technology. That being said, we believe building a trust with our patients with honest, quality care has been the key to our longstanding success in this community," says Dr. Sherberg.
Another added convenience with Northford Family Dental is a patient-interactive website developed by dental website design leader ProSites. The website includes their Blog, Dental Videos, Patient Testimonials and a list of procedures and their descriptions for patients to educate themselves on the services offered at the practice.
Most recently, Northford Family Dental added resident Periodontist, Dr. Ivelina Dean. Dr. Dean attended the School of Dental Medicine at the University of Connecticut where she graduated in 2007. While attending school, she received both the American Academy of Periodontology Dental Student Award and the Certificate of Recognition of the American Academy of Implant Dentistry for outstanding achievement. She then went on and received her Master of Dental Science Degree and specialty certificate in periodontology from the University of Tennessee in 2010.
"We've always felt that periodontal health is the key to keeping your teeth throughout your life. The addition of Dr. Dean will offer our patients a comprehensive periodontal treatment program within our office. It makes us a one stop dental shop," says Dr. Connolly.
In addition to her extensive educational background, Dr. Dean has had scholarly works published in the Journal of the International Academy of Periodontology. Every week, Dr. Dean sees patients and utilizes her expert knowledge and training.
"It's important to have a resident Periodontist to provide comprehensive care, prevention, detection, and treatment of periodontal disease," said Dr. Dean.
Since establishing their practice, Northford Family Dental has provided Family, Cosmetic and Implant Dentistry for over 25 years. The trusted and experienced team of staff is committed to providing the community with top notch dental care, making Northford Family Dental the ideal choice for one-stop dentistry. For more information about dentistry or Northford, CT Periodontist, Dr. Dean, please visit the website at northfordfamilydental.com or call (203) 484-0456.
# # #