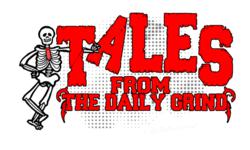 "For many people, sharing workplace experiences is a natural part of life"
Detroit, MI (PRWEB) June 02, 2011
http://www.talesfromthedailygrind.com launched today as a humorous social network dedicated to giving their community aka "Grinders" a chance to vent anonymously about their job. Tales from the Daily Grind is unique in that members can post directly to the site or via Short Message Service (SMS) using a 5 digit code (75572). The most distinctive feature of http://www.talesfromthedailygrind.com is that members are allowed to vote whether they think another member should quit or stay at their job. New members can register in just a couple minutes and registration is not needed to vote. Only after registration can members post on the website or SMS and the site is totally free.
Through the years, people have always gathered around the water cooler to vent and rant about their daily grind. People have since navigated to various social networking sites to voice their opinions, which can come with consequences and in certain situations result in job termination. TalesFromTheDailyGrind helps keep the social tradition alive by providing an anonymous network of members with a common interest, their job.
"Tales from the Daily Grind is designed for everyday people in the workforce" says, Co-Founder Sarah Sims. "Whether you're looking for a good laugh or you want to read about experiences in your current industry http://www.talesfromthedailygrind.com is for you." Tales from the Daily Grind gives people the opportunity to express and share witty stories or experiences about normal things that happen at their place of employment. Sims adds, "Lets face it, there are approximately 140 million people currently working in America. I'm sure 90% of them have something to say about their job and now they have the perfect outlet to say it.
"For many people, sharing workplace experiences is a natural part of life. http://www.talesfromthedailygrind.com was created to enable members to share their workplace stories with like-minded people in their industry and around the globe, and in the process realize that their current job isn't that bad after all."
Follow TWITTER @talesfromthedg
Become a fan facebook.com/talesfromthedailygrind
###