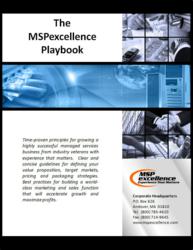 MSPs have a clear choice to make with respect to cloud computing – adapt to a managed cloud services business model or become marginalized by the big guys.
New York, NY (PRWEB) June 01, 2011
MSPexcellence, a business consulting firm focused on MSPs and technology suppliers, today announced a partnership with Technology Capital Investors (TCI) to provide programs and resources for MSPs looking to get their businesses ready for capital investment, execute on newly received funding or expand via merger or acquisition.
TCI is a New York based investment firm focused on Managed Service Providers (MSPs) and hosting companies The companies have identified the key performance metrics and success factors for sales and marketing efficiency and scalability that are important to investors, and will help MSPs to achieve them with a 5-step investment readiness program. The program is based on The MSPexcellence Playbook™, a five step process and resource book for building and scaling an MSP business that includes an MSP cloud migration strategy as well as go-to-market strategies and tools for maximizing revenue production and profitability while minimizing the cost of customer acquisition.
A principle theme of the program is to optimize and manage a predictable Cost of Acquisition (COA) for adding customers to the business. "In the current environment MSPs must aggressively grow their business and be able to scale them in order to survive. Having an efficient COA that guides the growth process is essential to the long term success of any MSP. At the end of the day, the bottom line determines the value of the business." said Sam Attias, Managing Partner and Founder of Technology Capital Investors. "Our partnership with MSPexcellence is based on the critical importance of COA and the role it plays in building a highly successful managed cloud services business. Todd and David are veterans at growing technology companies by way of sales and marketing. Their track record speaks for itself. To have this level of expertise and experience focused on the MSP sub-vertical is a rarity, and we feel fortunate that they are working with the TCI family."
TCI and MSPexcellence share the belief that cloud computing will revolutionize the IT services industry at all levels – from small businesses to large enterprises within the next five years. The challenge, and also the opportunity for the MSP, will be in redefining its role from managing physical infrastructure to virtual resources while providing hosted services. This must be accomplished in the face of stiff competition from public commodity cloud providers like Amazon, Microsoft and Google. The MSPexcellence Playbook addresses this challenge and enables the MSP to fully exploit the market opportunity for MSP cloud services.
"MSPs have a clear choice to make with respect to cloud computing – adapt to a managed cloud services business model or become marginalized by the big guys. While the choice seems obvious, the path to take in making the change is not." commented Todd Hussey, Partner and Co-founder of MSPexcellence. "It will take a solid go-to-market strategy, professional execution, and for accelerated growth, it will take investment capital. Our partnership with TCI, the leading MSP investment firm, allows us to provide the combination and the synergy of all three ingredients."
The MSPexcellence Playbook is available now and includes five steps for establishing and growing an MSP business for managed cloud services. It begins by helping the MSP to formulate the elements of a strategic marketing plan and then presents strategies for pricing and packaging managed services. The Playbook then shows the MSP how to execute effective marketing programs to generate leads and manage a predictable and scalable sales function. Success measurement is accomplished with the use of key performance metrics including the critical COA metric described above. Ready-to-use worksheets and templates guide the MSP through the implementation of all best practices outlined in the chapters of the Playbook. The MSPexcellence Playbook and the investment readiness program are available now for a one-time fee of $2,500 for the Playbook and $200 per month for ongoing online instruction and Playbook updates or enhancements.
For more information, please visit http://www.mspexcellence.com.
About Technology Capital Investors
Technology Capital Investors is an investment and management group that concentrates on MSPs, Hosters and IT outsourcing companies. It is made up of a diverse group of successful technology entrepreneurs and finance professionals. Its model is to acquire controlling stakes in target companies while keeping existing management as shareholders and partners. TCI has been successfully growing cloud-focused companies for over ten years. For more information please visit http://www.techcapinvestors.com.
About MSPexcellence
MSPexcellence is a provider of business building strategies, tools and services for managed service providers and their technology suppliers. The company was founded by Todd Hussey and Dave Zwicker who bring unparalleled industry experience to the MSP business services landscape in the form of technology messaging and positioning, pricing and packaging strategies, go-to-market planning, content-driven lead generation programs, effective sales staffing and management of the sales process. This experience is embodied in the industry's most complete compilation of MSP best practices, The MSPexcellence Playbook, an easy-to-use guide for building a successful MSP business. More information about MSPexcellence and The MSPexcellence Playbook is available at http://www.mspexcellence.com.
# # #