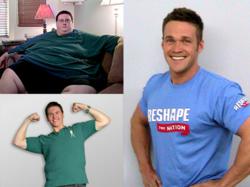 We look forward to watching Chris help change the lives of the eight participants in the same way he has improved thousands of lives with ReshapeTheNation.com
(PRWEB) June 01, 2011
AtHomeWeigtLoss.com would like to congratulate Chris Powell on Monday night's premiere of Extreme Makeover: Weight Loss Edition on ABC. The team from AtHomeWeightLoss.com has been encouraging people to use Powell's online weight loss and nutrition program, Reshape The Nation, for years, and finally seeing Chris get the recognition he deserves is surely a thrill for the many members who have lost hundreds of pounds while following his journey on ReshapeTheNation.com..
Reshape The Nation has been a favorite opportunity to offer AtHomeWeightLoss.com patrons because it combines Chris's easy-to-follow "carb cycling" nutrition principles with his unique collection of daily workouts that allow anyone to get fit and healthy without expensive equipment or gym memberships. Plus, Powell's specially designed "cheat days" are known for giving Reshape members the opportunity to still eat the foods they enjoy, keeping them losing weight while still living their lives to the fullest.
As Extreme Makeover: Weight Loss Edition hits the airwaves starting this week, we look forward to watching Chris help change the lives of the eight participants in the same way he has improved thousands of lives with ReshapeTheNation.com. Hopefully, through this new show and his Reshape The Nation program, Chris will have the opportunity to continue improving thousands more lives.
For more information about Chris Powell's new show, Extreme Makeover: Weight Loss Edition, visit ABC.com. To learn more about the Reshape The Nation weight loss program, visit http://www.reshapethenation.com. You can also read more about Chris Powell and Reshape The Nation on AtHomeWeightLoss.com.
###