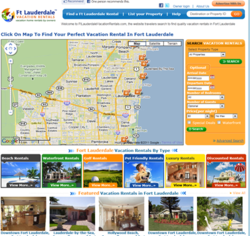 Beginning this week, cities won't be allowed to impose any new rules on short-term rentals. There has never been a better time for homeowners to start renting and profiting from their vacation property.
Fort Lauderdale, FL (PRWEB) June 01, 2011
The founders of Fort Lauderdale Vacation Rentals are pleased to announce the official launch of FtLauderdaleVacationRentals.com, an online portal for travelers looking to book quality vacation rentals throughout Fort Lauderdale and the surrounding areas.
The website allows potential renters to browse a wide variety of property rentals including beachfront condos, private villas and expansive vacation homes. FtLauderdaleVacationRentals.com aims to provide the best selection of vacation rentals in Fort Lauderdale, while also connecting travelers with property owners in a safe and convenient online environment.
One of the key features of the site is the ability to narrow down search results based on location, size, price and property features. Travelers can research and compare properties based on their preferences and contact property owners directly. Property types featured on the site include houses, mansions, studios, apartments, villas and condos. Properties are listed in areas like Fort Lauderdale Beach, Las Olas Isles, Victoria Park, Hollywood Beach and many more.
As the first online portal dedicated only to vacation rentals in Fort Lauderdale, FtLauderdaleVacationRentals.com strives to give travelers all the information and options available when searching for vacation rentals in Fort Lauderdale. The site was started in 2006 and acquired by Vacation Rental Organization, LLC in 2010.
In addition to providing an indispensable service for travelers, the website also provides a service to property owners interested in listing their properties on the site. Fort Lauderdale Vacation Rentals is not a broker, but instead a means for travelers seeking the space, value and amenities of a vacation rental with homeowners of vacation properties.
To learn more about the website or browse the properties listed on the site, visit FtLauderdaleVacationRentals.com.
###