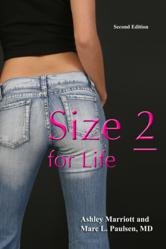 Newport Beach, CA (PRWEB) June 01, 2011
Sammi "Sweetheart" Giancola has been sued by Marc L. Paulsen, MD for allegedly breeching both an oral and a written contract as well as Intentional Misrepresentation and nine additional causes of action. The suit seeks compensatory as well as punitive damages.
CASE NUMBER: YC064795. MARC L. PAULSEN PRODUCTIONS, a California Corporation and MARC L. PAULSEN, an individual, Plaintiffs, v. SAMANTHA GIANCOLA, an individual; and DOES 1 through 20, inclusive, Defendants. TORRANCE SUPERIOR COURT, CA.
The suit alleges that Ms. Giancola had reached an agreement to co-author a new version of Dr. Paulsen's diet and fitness book "Size 2 for Life," (cover photo depicted). The new book was to be titled "Size 2: Forget tags, healthy is the new size 2" and was to "...incorporate beauty advice in the context of her (Giancola's) message of maintaining a positive body image." The new book had already been accepted by a publisher.
Sammi Giancola is one of the Stars of the hit reality show "Jersey Shore," which is currently on location in Florence, Italy. Her manager, who negotiated the book deal, is Ami Manning, who is also the VP of Paris Hilton Entertainment, according to IMDB.com.
Dr. Paulsen is the author of several diet and fitness books as well as "The Gym,( aka Pump This)" a comedic TV show based upon the cartoon concepts published in his book " Looking to Lose Weight? Dump Your Trainer."
Attorney William L. Paulsen, (949) 456-1148, is handling the litigation. Dr. Paulsen's Entertainment Attorney, Richard Freiman, (818) 378-3530, was involved in the contract negotiations.
Stance Publications is an Independent Publishing company based in Newport Beach, CA. It publishes both fiction and non-fiction books. Stance Publications is the publisher of Dr. Paulsen's previous works.
###