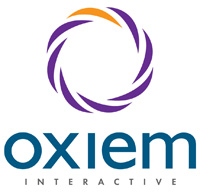 Ohio is filled with amazing interactive talent, and we're proud to be a part of this prestigious group.
Columbus, OH (PRWEB) June 01, 2011
Oxiem Interactive was recognized last week as one of the state's top digital and interactive talents at the 2011 Ohio Interactive Awards.
Oxiem Interactive received one award for the Social Media "Other" category and one Honorable Mention for Best Non-Profit Website. The awards were presented during a recognition ceremony at the Ohio Union at The Ohio State University in Columbus on Thursday, May 26.
In the Social Media "Other" category, Oxiem won for its progressive work on the Ohio Hi-Point Career Center "Hi-Point Journeys & Pathfinder" programs. This online student recruitment campaign integrates multiple technologies and social media tools, including the powerful collaborative blog platform InnoBlogs. The "journeys" are told by 16 bloggers, actual Hi-Point students, each from a different curriculum track at Hi-Point through blogs, Flickr and YouTube.
Hi-Point Journeys took it a step further by adding on the experiential, dynamic quiz system, Pathfinder, to the site. Upon arriving on the site, potential students step through a quiz assessing career interests and talents, and the Pathfinder creates a dynamic page based on the students' answers. This page includes content about the Ohio Hi-Point Career Center curriculum track that best fits each student's responses.
The final page of the quiz series includes a custom background, a stream of blog posts from Journeys student bloggers from similar school programs, photos of real students from classes and labs, and YouTube videos of real life at Hi-Point. At multiple stages of this experiential program, students are prompted to get in touch, come for a tour or send an e-mail indicating their interest in starting their Hi-Point student career path.
"We're really excited to have our work recognized in The Ohio Interactive Awards," said Billy Fischer, Director of Business Development for Oxiem. "Ohio Hi-Point Career Center has been an excellent partner for Oxiem and always allows us to push the envelope with the newest technologies. Ohio is filled with amazing interactive talent, and we're proud to be a part of this prestigious group."
Oxiem also received Honorable Mention recognition in the Non-Profit Website category for its work on http://www.ecosportscorridor.com.
A total of 15 awards were presented in the following categories: Advertising, Sectors/Industry, Social Web, Best Integrated Campaign, Best Use of New Technology, and Interactive Agency of the Year. Winners were chosen by a panel of marketing industry leaders who work with and represent some of the world's most recognizable brands and Fortune 500 companies. Entries were judged on a 5-point scale in four areas: Challenges, Strategy, Objectives, and Results.
Created in 2009, the Ohio Interactive Awards celebrate and recognize Ohio's creative talent and the exceptional work produced by the interactive marketing community. For more information on the awards, visit http://ohiointeractiveawards.com.
About Oxiem Interactive.
Oxiem Interactive brings a fresh approach to effective web marketing for companies large and small. By combining high-performance websites, effective search marketing programs, social networking and interactive flash media, Oxiem takes e-marketing to a whole new level.
###