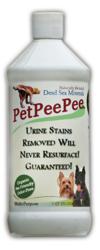 Soap does not work on pet stains & odors because it cannot be rinsed!
Pompano Beach, FL (PRWEB) June 02, 2011
PetPeePee System introduces its long awaited PetPeePee Product that uses Naturally Blended Minerals from the Dead Sea to remove dog & cat urine odor. The PetPeePee Product is designed to kill bacteria that causes urine odor & stains, naturally. "What makes the PetPeePee Product efficient in removing urine odor," says Don Martin, Owner & Founder of the PetPeePee System, "is that it's the first cleaning product for pet stains & odors that does not contain fragrance, soap or enzymes."
The PetPeePee Product is 100% odor-free so it does not merely mask urine odor. "After years of experience in removing urine odor, we have discovered that by using cleaning products that are fragranced, the pee pee odor is simply masked for the human, but is still present for the animal," quotes Martin. For years pet owners have been using cleaning products that contain soap, deodorizers & enzymes which can eventually cause stains, damage or worsening urine odor.
"If you shake any pet stain & odor cleaning product on the market," says Martin, "you will notice that they all contain soap. Soap does not work on pet stains & odor because it cannot be rinsed! When we wash our hands, clothes, hair, dishes, or bedding, we rinse them with water to eliminate all traces of soap. If soap is left on the items they would become sticky, dirty & a magnet for bacteria. Then the question is: why are pet owners using soapy cleaning products on their carpets, hard floors, upholstery, etc., when it cannot be rinsed out 100%?" When soap & urine is left in the item, bacteria multiplies and causes urine odor to become worse and permanent stains. Therefore, the PetPeePee Product does not contain any chemicals or detergents that worsen pet stains & odors.
The PetPeePee Product is simple to use with a pull out spout instead of the conventional spray nozzle. It is designed to be poured on rather than sprayed because the PetPeePee System has discovered that to remove urine completely, the area must be saturated with the product. "We have discovered," notes Martin, "that if a pet urinates x amount of urine, x amount of product must be applied to remove it. Not having equal ratios will not be enough to eliminate the urine odor 100%."
Sold in two sizes: 32 ounces (1 quart) & 1 gallon, the PetPeePee Product is available in over 40 independently owned pet stores nationwide.The PetPeePee Product is expanding every day, visit http://www.PetPeePeeProducts.com to find a location near you or to become a dealer.
The PetPeePee System is a service based company located in Pompano Beach, FL that is specialized in removing dog & cat urine odor. Established in 2000 by Don Martin, PetPeePee System remains the only company in the industry that specifies in dog & cat urine odor removal. Because The PetPeePee System has been removing urine odor from customers' homes for over 10 years, we are the experts in pet pee pee!
###