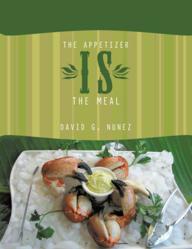 "I'll show you how to make an inexpensive lifetime investment into easy restaurant quality food that you can use over and over again."
Seal Beach, CA (PRWEB) June 01, 2011
Many people think the appetizer is just a course before the main dish, but cook David Nunez of The Appetizer is the Meal believes appetizers can be the meal themselves. In his new cookbook, Nunez gives step-by-step instructions on how to prepare simple and tasty hors d'oeuvres.
In 1995, Nunez met his inspiration and motivation for the book, his wife Cindy. Throughout their courtship, the couple dined out often and found they preferred appetizers more than the entrées. After marrying and having children, it became difficult for them to be able to eat out and enjoy their favorite pastime, so the pair began making appetizers at home. Sadly, Cindy was diagnosed with terminal breast cancer, and in the week prior to her passing, Nunez promised to finish The Appetizer is the Meal and dedicate it to her memory.
"It all began as a love born out of necessity," says to Nunez. He started his culinary journey while in college, cooking for himself as a means to save money. He developed his skill while preparing simple dishes for family and friends out of his humble abode.
David Nunez stirs up an appetizing cookbook for anyone with a passion for cooking and food. This hands-on instructional cookbook includes colorful photos and easy-to-follow steps for all capabilities, from amateur cook to chef. The Appetizer is the Meal includes images of the utensils needed and a wine and beverage pairing for each recipe. Sections of the book focus on:

How to Make Stocks
Traditional and Non-Traditional Appetizers
Seafood
Meat
Puff Pastries
Bread Making
"I'll show you how to make an inexpensive lifetime investment into easy restaurant quality food that you can use over and over again," says Nunez.
About the Author
David Nunez has over 10 years of cooking experience. While studying at California State University, Long Beach, Nunez learned how to cook on a tight budget. He lives in Seal Beach (near Huntington Beach), California, with his two daughters, who live by "a handful of good appetizer standbys are ultimately the meal."
###