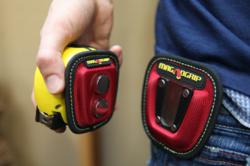 The Quick Snap Magnetic Tape Measure Holder launch is a landmark achievement for MagnoGrip and a significant endorsement by Lowe's.
San Francisco, CA (PRWEB) June 02, 2011
MagnoGrip today announced that Quick Snap, it's innovative magnetic tape measure holder is now available for purchase at Lowe's stores nationwide and at MagnoGrip.com. The Quick Snap, which recently scored a 93% approval rating from The Handyman Club of America, uses a quick and easy "snap on, snap off" magnetic system that provides users with fast access to their tape measure.
The Quick Snap's ground-breaking magnetic design is compatible with all tape measures and gives users the ability to attach their tape measure to metal surfaces such as steel beams and ladders. Its magnetic quick release system puts less stress on belts, which reduces wear and tear.
"This is a landmark achievement for MagnoGrip and a significant endorsement by Lowe's, the nation's second largest home improvement retailer." said Andre Woolery, MagnoGrip's CEO and founder. "With the Quick Snap, everyone, from the pro contractor to the weekend warrior, will be able to get fast access to their tape measure, save their pants from damage and use their tape in new and unique ways."
The Quick Snap retails for $19.99 and is one of five new MagnoGrip products being sold at Lowe's today. The other four products are MagnoGrip's flagship magnetic wristband, its magnetic nail pouch, magnetic belt clip and magnetic tool pouch.
About MagnoGrip Inc.
MagnoGrip is a San Francisco based manufacturer of magnetic tool storage gear and accessories. The company was founded with $1,000 by Andre Woolery while pursuing his MBA at the Stanford Graduate School of Business. Since its humble bootstrapped beginnings in 2005, MagnoGrip has evolved into a company that is known for developing cool, innovative and well-crafted products for do-it yourselfers and professional tradesmen. Its products are distributed nationwide through The Home Depot, Lowe's, Walmart, Canadian Tire and other major retailers.
For more information, please visit http://www.magnogrip.com or call 415-704-5008.
# # #