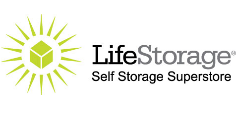 We're always interested in aiding worthy causes, and when Susan approached us about CAF, we couldn't refuse - Debbie Rogozinski, LifeStorage District Manager.
Chicago, IL (PRWEB) June 02, 2011
LifeStorage Centers, LLC; a premier Chicago self storage provider provider of home and business storage and office solutions, is proud to announce their support for the Challenged Athletes Foundation (CAF) by sponsoring "Team LifeStorage" at the Muddy Buddy competition in Gilberts, IL. CAF provides opportunities and support for people with physical disabilities so they can pursue active lifestyles.
"I am inspired by not only the foundation, but the athletes that benefit from them," said Susan Powers, Carpentersville LifeStorage Store Manager. Powers is captain of "Team LifeStorage" and has been instrumental in raising money for CAF through various fundraising events.
Powers will be participating with Liz Benson a fellow co-worker at LifeStorage in the Muddy Buddy race. It's a two-person "ride and run" event held in various cities, including Gilberts, IL on July 31st, across the country to raise money for CAF. Powers & Benson are excited and training hard. "Participating in the Muddy Buddy and raising funds for CAF is our way of saying thank you and to recognize them for the amazing athletes that they are!"
LifeStorage recognizes the importance of community and charitable support and is excited about the opportunity. "We're always interested in aiding worthy causes, and when Susan approached us about CAF, we couldn't refuse," said Debbie Rogozinski, LifeStorage District Manager.
CAF offers sports equipment, post-rehabilitation and mentoring services, and life-style information for the physically disabled. This includes those who have suffered a traumatic injury, have a physically impairing disease or were born with a congenital impairment resulting in a physical disability.
"Here is an organization that saw a need and a desire of a group of people," Powers said. "The additional obstacles that they overcome and adapt to are inspiring and the outlook on life these athletes have is humbling."
Team LifeStorage has set up fundraising events to help reach the $5000 goal. The first was a two-month partnership with Wendy's Restaurant in Carpentersville; they raised $1500, bringing the current total to $1700.
Future Events: On Sunday, June 12th, adults can attend a "Wine and Dine" at 3 Vines Cafe in Sleepy Hollow, IL, where 10% of sales go to CAF. On Thursday, June 30th, live music and comedy at the Tilted Kilt in Elgin, where the $5 donation cover will benefit the group. On Thursday, July 14th, Families can attend the Bowl-a-Rama event at the Brunswick Zone located at 2075 Algonquin Rd, Algonquin, IL. The $25 package includes two hours of bowling, shoe rental, one 16", one topping pizza per lane, and unlimited soda.
For more information on CAF, please visit: http://www.challengedathletes.org/ or donate to Team Life Storage at muddybuddy2011.kintera.org/lifestorage.
Conveniently find a LifeStorage location near you, please visit: http://www.lifestorage.net/self_storage/locations
###