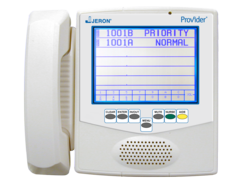 … the new 6865 Touchscreen Nurse Console gives users full access to all the system features in a smaller more economically- priced console.
Chicago, IL (PRWEB) June 02, 2011
Jeron Electronic Systems announced today that it is adding a new Touchscreen Nurse Console to its popular Provider 680® nurse call system.
According to Jeron Marketing VP Ericka Baran, "Our customers really like the ease of use of a touchscreen, but found that the Provider 680 standard 15" touchscreen was just too big for some nursing stations and charting areas. To meet their needs, we designed the new 6865 Touchscreen Nurse Console to give users full access to all the system features in a smaller, more economically priced console."
In addition to the touchscreen operation, the new console's compact design allows for either desk or wall mounting. The new console is backward compatible with existing Provider 680 systems, allowing customers to easily add the benefit of touchscreen operation to their systems. The smaller size, wall-mounting option, and lower price gives facilities the flexibility to place more nurse consoles throughout the unit, streamlining communications and combating staff fatigue.
The 6865 Touchscreen Nurse Console provides:

Embedded technology designed for continuous operation
5.7" LCD touchscreen display with long life LED backlight
Simultaneous display of up to 128 calls or room/bed status indications
Touchscreen menu-driven navigation with English prompts
Tactile buttons for the most common operations
Call-in tone mute and tone level adjustment
Choice of handset or push-to-talk communication
CAT 5E/6 connection cables
Continuous self-diagnostics and alerting of console or station failure
Minimal desktop footprint design with wall-mount option
The Jeron Provider 680 Nurse Call System addresses facility-wide staff and patient communication needs for today and well into the future. It incorporates advanced technology that streamlines communication to improve patient care and staff satisfaction while minimizing installation and maintenance costs. Patient to staff and staff to staff communication is maximized through integration with wireless phones, pocket pagers, and Real Time Locating.
The Touchscreen Nurse Console for Provider 680 will be available for general release in the summer of 2011.
ABOUT JERON ELECTRONIC SYSTEMS: A leader in communications systems for the healthcare industry, Jeron Electronic Systems is the engineering and manufacturing force behind Provider® nurse call systems. Provider systems facilitate communications, speed response times and integrate with a wide spectrum of alerting and notification technologies, all focused on delivering the highest levels of patient care.
From its founding in 1965, Jeron has earned a solid reputation for innovation, quality and service. Jeron products are engineered and manufactured in the USA.
For more information regarding Provider® 680 or any of Jeron's health care communication solutions, visit http://www.jeron.com/markets/healthcare or call 773.275.1900.
###