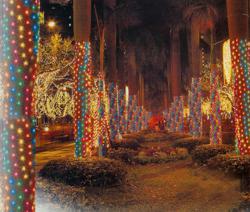 Christmas Central grows by adding Merchant Overstock to its family of sites
Buffalo, NY (PRWEB) June 02, 2011
In a show of customer appreciation and to increase ordering efficiency, Merchant Overstock, a major online retailer of Christmas trimmings and home décor, recently added automatic qualified quantity and wholesale discounts on every item it sells. The web store, a spin-off of highly successful ChristmasCentral.com, offers a 15% wholesale price reduction to eligible customers.
Many of Merchant Overstock's customers are interior designers, commercial decorators or retailers who not only buy quantities of products, but also qualify for resale savings on their purchases. A majority of them become repeat customers who know that Merchant Overstock, like Christmas Central, stocks a huge inventory as well as hard-to-find items for their projects or businesses. "If a wholesale customer only needs 99-cent packs of replacement light bulbs for an existing display, he or she can still qualify for both a quantity discount and the extra 15% savings," says Nathan Gordon, CIO of MerchantOverstock.com. "We want our customers to know that we appreciate their continued patronage."
To establish a wholesale relationship, customers holding a resale certificate can simply click on the "Wholesale Inquiries" link located at the bottom of the MerchantOverstock.com homepage for detailed instructions. Once an account is created, Merchant Overstock automatically deducts 15% from its regular prices, most of which are already listed below retail.
About MerchantOverstock.com
MerchantOverstock.com is a division of Gordon Companies, Inc., a family owned and operated business founded in 1977. Like ChristmasCentral.com, Merchant Overstock has a huge inventory of everything Christmas, home and patio décor, and religious items.
For more information, visit http://www.MerchantOverstock.com or call 800-433-0038.
###