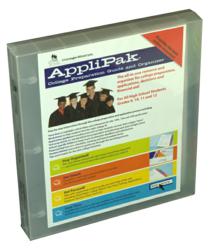 Milwaukee, WI (PRWEB) June 01, 2011
Close to four million students will be saying good bye to middle school this spring and transitioning to high school. As incoming freshmen, many students, and their parents, don't anticipate the importance of the high school freshman year in terms of college preparation and admission applications. Students can get a head start on planning for college with the AppliPak College Preparation Guide and Organizer as a gift for middle school graduation.
AppliPak takes out all of the guesswork for parents and keeps students on track to prepare for college every year of high school, starting with ninth grade. AppliPak not only provides a roadmap for each year of high school, but also provides worksheets and checklists to guide students through the many aspects of college planning. The information is contained in a durable plastic case binder that helps students keep all of their college planning information organized.
According to the Consortium for Chicago School Research at the University of Chicago, grades and attendance in the high school freshman year have the most impact on predicting high school graduation. Their study showed that more than 95 percent of students with a B average or better in their freshman year graduate and freshmen with less than a C average are more likely to drop out than graduate. Parents can have a positive influence by reinforcing the importance of getting to school on time and not cutting classes, communicating with teachers and school counselors to insure there is support available when needed and providing resources to plan for each year of high school and admission into college.
AppliPak is the perfect companion for every student to use in conjunction with their high school guidance counselor to insure they are on top of their college planning. The American School Counselor Association (ASCA) recommends an ideal counselor-to-student ratio of 1:250. However, the U.S. Department of Education reports that the national average is 1:457. The National Association of College Admissions Counselors (NACAC) also reported that in 2009-10 school year, 80 percent of secondary schools had counseling department staff numbers frozen and public schools reported an average increase of more than 50 students per counselor. Counselor's can be time-constrained with other responsibilities and unable to provide personalized college planning assistance to students. AppliPak gives students the tools and resources to follow and manage the process themselves and make counselor meetings more productive.
About AppliPak®
AppliPak ( http://www.applipak.com ) is the all-in-one resource and organizer designed to be used every year of high school for college preparation, SAT/ACT testing, college choice decisions, applications, financial aid and scholarships. Stay organized with one place to keep all your information regarding college planning; you'll know where to find it when you need it! Checklists, roadmaps and worksheets help you plan and stay on track with college preparation. AppliPak saves you time by providing the best resources on the web for testing, college applications, financial aid and scholarships.
Features:

Roadmaps, checklists and worksheets for every year of high school: 9, 10, 11, 12
Durable plastic pocket tabs to store college planning information and materials
Six school-specific pockets and application/financial aid tracking worksheets
Oversized durable 3-ring organizer with locking tabs
AppliPak is available online at http://www.applipak.com and at Amazon.com for $79.99.
Contact:
Mitch Clark
Executive Director
College Sherpa LLC
Phone: 262-389-9343
mitch.clark(at)collegesherpa(dot)com
AppliPak is published by College Sherpa LLC. If you'd like more information about AppliPak, or to schedule and interview with Mitch Clark, please call him at 262-389-9343 or email at him at mitch.clark at collegesherpa.com.
###