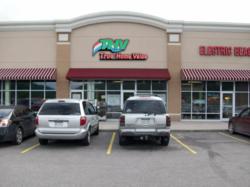 ... Our products will bring superior energy savings to West Virginia homeowners
Louisville, KY (PRWEB) June 01, 2011
THV Stores, a home improvement remodeler, offers an assortment of services including the installation of energy efficient replacement windows, entry and patio doors, vinyl siding and more. THV has announced plans for expansion into two new markets in West Virginia. They will service roughly a 50 mile radius surrounding these two new showrooms. The Huntington store will be in the Barboursville Center located at 13 Mall Road in Barboursville, WV and the Charleston store will be in the Shops at Kanawha located at 5707 MacCorkle Ave, Unit #85 in Charleston, WV. The phone number for the new Huntington location will be (304) 733-6596, and the Charleston phone number will be (304) 925-3512.
With the opening of the West Virginia THV Stores, the company continues to expand its presence by adding West Virginia to its already established network of stores located throughout Kentucky. Other THV Store locations throughout Kentucky include Paducah, Bowling Green, Madisonville, and Owensboro.
According to Don Shelby, head of THV retail store development, the company decided to open these new locations in response to rising consumer demand in the area. "We decided to open showrooms that offer innovative products that share the same goals of West Virginia homeowners, including high quality products backed by tremendous service, all at a great value."
Nearly seven years after launching its first store in Paducah KY, THV Stores plans to continue its expansion strategy into the near future. "I'm originally from West Virginia so it gives me great pride that we are expanding into these markets. Our products will bring superior energy savings to West Virginia homeowners" states Charles Smith, THV Stores CEO.
Both of the new locations will be open Monday through Thursday from 9 am – 6 pm, and Friday and Saturday from 9 am – 1 pm. The stores also contain a newly constructed showroom featuring a host of their top-of-the-line products and materials, most of them exclusive to THV.
ABOUT THV STORES
THV Stores has served the remodeling needs of homeowners throughout the Kentucky area for several years. Utilizing the best products, materials, and workmanship in the industry, THV Stores not only enhances the beauty and comfort of your home with THV Compozit Windows and Doors systems, but also specializes in home improvements such as maintenance-free vinyl siding. THV Stores are a division of THV Holdings LLC and True Home Value, Inc. which owns several retail outlets throughout the Midwest. True Home Value is the 7th largest home improvement remodeler in the country (The Replacement 100, Hanley Wood).
###