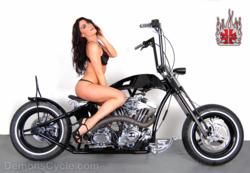 I still don't understand how Demon's could do that, it is nothing less than a miracle…
(PRWEB) June 02, 2011
Demon's Cycle manages to build a brand new fully custom bobber for Michael Schiefer from Köln Germany for an unbelievable budget of less than $15000 USD.
Michael Schiefer is a 39 year old businessman and entrepreneur from Köln where he owns M.E.S. Tank service station. His main specialty is automotive high performance tuning and enjoys working on Harley-Davidson motorcycles. Michael is proud of his €50,000.00 Walz Hardcore custom motorcycle.
Mr. Schiefer is also credited with his own TV show on Kabel1. He has been watching automotive and motorcycle related shows and stumbled upon the Demon's Cycle show on the same channel. He had watched the growth of Demon's Cycle and followed the progress of their custom bikes for three years. Finally Michael contacted Thomas Steinbacher, owner of Demon's Cycle, and the star of the show. He challenged Tom to build a custom motorcycle for less than $15,000 USD.
Tom was very surprised by all the things he and Michael had in common. Both Germans share the love of custom Harley motorcycles, both have a TV show on Kabel1, and both are known for their bad temper. So German "brother from a different mother" Tom Steinbacher accepted the challenge and promised to build a very cool fully custom bike within the given budget on a condition that he will be granted full freedom in choice of style of the new custom bike.
Two months later a brand new custom bobber was unveiled. This euro-style radical bobber is featuring 114" engine, 6-speed transmission, black billet wheels and custom radical gas tank. Needless to say that Michael Schiefer was very impressed. "I still don't understand how Demon's could do that" – he said "it is nothing less than a miracle… and I am having second thoughts now about spending five times more on Waltz Hardcore."
###