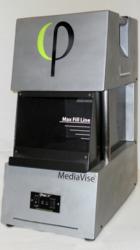 "The MediaVise is the first machine to completely destroy hard disk drives without any operator intervention."
(PRWEB) June 02, 2011
The MediaVise Hard Disk Drive Crusher is a desktop destroyer that crushes, breaks, mangles, mashes, and destroys hard disk drives, cell phones, pagers, PDAs and other electronics in order to guarantee information contained within is no longer accessible. The destruction process completely changes the device physically. Electronics that have been physically destroyed are easy to identify and isolate for disposal.
"At the touch of a button, the MediaVise patent-pending crushing plates deliver a staggering 33,000 pounds of force per square inch to the drive platters, electronic memory chips, and read heads of the drive," said David Partridge, President of Data Devices International, Inc. "This new design concept completely destroys the internal platter and all electronics for complete data security.".
The MediaVise Hard Disk Drive Crusher is designed to be operator friendly. The operator drops the drive into the feed slot, and the machine automatically inserts the drive into the crushing mechanism. When the drive has been completely destroyed, it drops freely into the crushed media receptacle for disposal. When this "catch basket" is full, the operator is notified to empty it. No readable drives can be accidentally released for disposal.
Computer hard disk drives, cell phones, flash drives, and other magnetic storage media hold an inordinate amount of sensitive and personal information. This continues to spell financial devastation for individuals, companies, financial institutions, government organizations, military installations, and credit card processors. The entire MediaVise destruction process is completely automatic and meets government specifications for data destruction.
Identity theft and fraud are increasing steadily. More than 11 million identities were stolen in 2009, resulting in financial loss of over 54 Billion Dollars (according to Javelin Strategy and Research). Physical drive destruction prevents the drive from being able to function, so data cannot be retrieved. The MediaVise is quiet, smooth and virtually vibration free. Best of all, it plugs into a normal wall socket for office use.
In today's litigious world, every organization must be vigilant about how it discards any data-carrying material. The passing of security laws like the Health Insurance Portability and Accountability Act (HIPAA), Gramm-Leach-Bliley Act (GLBA), and the Sarbanes-Oxley Act increase the risk. However, with data security and disposal, there is a constant learning curve. Data Devices International offers substantial Web resources to provide information and education on discarding data security equipment at Datadev.com, as well as with Degausser.com and HardDriveEquipment.com.
For additional information, contact Patty Grover or visit http://www.datadev.com.
Data Devices International, Inc. is a leader in the field of data security products and services, specializing in hard drive duplicators and erasers, degaussers, hard drive destroyers, hard drive shredders, magnetic tape maintenance equipment, CD, DVD, and Blu-Ray duplicators and printers, and top security shredders and destroyers.
###