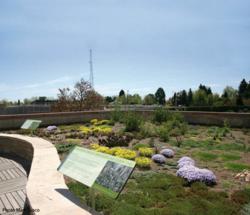 Green Roofs play an integral role in mitigation of air pollution and storm water, with the added benefit of adding green space, saving energy and enhance physiological and psychological well-being
Denver, CO (PRWEB) June 02, 2011
As population continues to rise, there is a correlative rise in air pollution, stormwater from impervious surfaces, urban heat island and habitat destruction, all of which pose a threat to the environment and our health. Green Roofs play an integral role in mitigation of air pollution and storm water, with the added benefit of adding green space, saving energy and enhance physiological and psychological well-being.
The Green Roofs for the West Symposium (GrowWest.org) is sponsored by the U.S. Green Building Council of Colorado, Colorado State University and University of Colorado Denver College of Architecture and Planning. The symposium is Denver's premier green roof educational event and is tailored for architects, landscape architects, facility managers, policy makers, energy specialist, engineers and horticulturists; participation qualifies for AIA, ASLA and USGBC Continuing Educational Credits. This full day event offers in-depth sessions to inform and educate industry professionals with current green roof best practices, construction information, integrated systems, design, planting and maintenance. The Symposium is at the Denver Botanic Gardens on June 16, 2011 from 8 a.m. to 5 p.m. To register, visit http://www.botanicgardens.org and click on the "Calendar" link, e-mail registrar(at)botanicgardens(dot)org or call 720-865-3580.
"The 2011 GrowWest Green Roof Symposium showcases the speakers and companies who are creating the standards and pushing the envelope in the green roof industry today. Anyone interested in Integrated Systems, the newest green roof benefits, technical performance, urban agriculture and green roof construction should attend this event," says Bison Innovative Products Green Roof Consultant Mark Fusco LEED AP, accredited GRP (Green Roof Professional) and Horticulturist.
For fifteen years, the architectural and building communities have been utilizing Bison's unique modular deck system, which is specifically designed to meet rooftop deck and green roof needs and requirements. Notable projects include The Visionaire (New York City's first LEED Platinum-certified condominiums) and Denver Botanic Gardens using Bison Wood Tiles and Deck Supports on green roofs and the Cooper Union (New York City) rooftop atrium using concrete roof pavers and Bison Deck Supports. Bison Innovative Products also offers green roof planning, construction and planting consulting.
Learn more about Bison Innovative Products at http://www.bisonip.com.
###