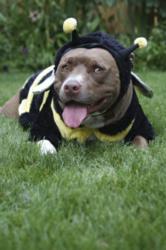 "We were pleased to be able to contribute to a cause that gives both people and dogs a better life." - Victor Lanfranco, Co-Founder of Synthetic Grass Warehouse
Anaheim, CA (PRWEB) June 02, 2011
The top nationwide distributor of artificial grass, Synthetic Grass Warehouse, recently donated synthetic turf to the Villalobos Rescue Center in Santa Clarita, CA. The center, which houses approximately 200 dogs, is the largest pit bull rescue center in the United States. Synthetic Grass Warehouse committed to a total of 500 square feet of its pet-friendly artificial grass for the rescue center. The grass was installed under a hut to allow the dogs to enjoy the shade and a new, soft and comfortable area to relax.
Villalobos Rescue Center has been featured on Animal Planet's hit reality show Pitbulls and Parolees, and works to rescue abandoned, abused, and neglected pit bulls across the country. They are medically treated, trained, and placed in new homes. The staff consists of parolees who help to maintain the center grounds and train the dogs. By working at the rescue center, parolees are able to secure a steady job and income, which would otherwise be a challenging task for many in parole. By gaining work experience at the rescue center, these parolees are given the skills and chance to smoothly transition back into society.
"We were pleased to be able to contribute to a cause that gives both people and dogs a better life", says Synthetic Grass Warehouse co-founder, Victor Lanfranco. Through recent developments and continuing innovations, Synthetic Grass Warehouse's line of pet-friendly turf is highly durable, safe for all pets, lead free, and can handle pet waste with ease. Their turf line has been used in dog parks, kennels, pet hotels, and other canine residences.
About Synthetic Grass Warehouse:
Synthetic Grass Warehouse was founded 7 years ago, and is currently the largest distributor of artificial grass in the world. With over 13 types of turf, Synthetic Grass Warehouse's product line can be used in commercial and residential applications. Synthetic Grass Warehouse continues to expand on its strong ties to the community and remains dedicated to causes that can benefit from the use of fake grass.
###