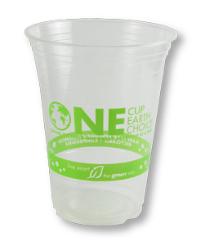 World Environment Day is the perfect time to consider going green to help save the environment.
City of Industry, CA (PRWEB) June 02, 2011
As the summer season kicks into full gear this June, CupDepot.com asks its customers to not only think about the summer, but also the environment. Sunday, June 5th is World Environment Day, an internationally recognized and United Nations endorsed holiday to celebrate positive environmental action.
World Environment Day is the perfect time to consider going green to help save the environment. And in honor of this day, CupDepot.com wants to be a part of your efforts to go green with discounted prices on the premium Karat® Earth line-up of Eco-Friendly products. Prepared with the 'Ways to Green Your Business' campaign, CupDepot.com is ready to show any business, café, restaurant, or home that being green is easy.
The Karat® Earth line-up of products was unveiled in 2007 as an environmental initiative for the Karat® company (a partner company of CupDepot.com) and since its establishment, CupDepot.com and Karat® remain strong supporters of the green revolution.
CupDepot.com, a manufacturer of Karat® Earth Eco-Friendly products, offers their line of products at wallet-friendly prices during the month of June. Karat® Earth Paper Food Containers start as low as $78.00 per case and are available in 8oz, 12oz, and 20oz convenient sizes. If you're going to buy Paper Food Containers, you're also going to need utensils to go with it. Fear not, CupDepot.com will also feature Karat® Earth Compostable Teaspoons in green and pink at $45.00 per case.
For all your disposable drink essentials, CupDepot.com has it covered. Karat® Earth PLA Cold Cups, available in 12oz – 32oz sizes, will also be featured starting as low as $75.00 per case. And for those who need their morning cup of coffee, the Karat® Earth Paper Hot Cups, available in 8oz – 20oz sizes, are featured for as low was $65.00 per case.
Today, Eco-Friendly products are the most requested disposable products as society moves towards a more sustainable environment; CupDepot.com makes it easy to get all your eco-friendly items with one easy purchase.
About CupDepot.com
CupDepot.com is headquartered in City of Industry, California and is widely known as a wholesale of premium paper and plastics for the restaurant and foodservice industry. For more information, please visit CupDepot.com
###