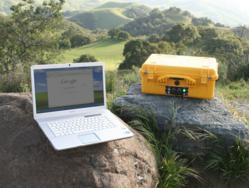 The Football is a self-pointing satellite terminal and wireless hotspot that requires no user interaction other than turning it on.
San Luis Obispo, CA (PRWEB) June 01, 2011
Ground Control Systems, a leader in mobile and portable satellite Internet solutions, today announced the immediate availability of The Football 3.01, hardened BGAN case, service and support. The Football is ideal for first responders, or other professionals that require a reliable broadband satellite Internet connection quickly, and without complexities. Just turn the system on under an open sky for full wireless Internet connectivity.
"Satellite is the only sure way of staying connected no matter where you are, especially during a localized disaster where power is unavailable." Says Mark Wright, Founder of Ground Control Systems. "The suitcase sized Football provides automatic satellite connectivity, and then it becomes a wireless access point for any in range laptop, smartphone or other internet capable device. It really is just that simple."
The Football BGAN Terminal features can be found at http://www.groundcontrol.com/football , and include:
► Up to 460 Kbps broadband Internet speeds (up and down).
► Fully automatic - No Pointing or aiming. Simply place under an open sky.
► Create a wireless access point in 60 seconds for any in-range device.
► Operates for 9.5 hours on a single charge.
► Ruggedized, operates in extreme environments.
► Full IP compatibility – Internet, SMTP email, File Transfer (FTP).
► Operates Globally (except for the extreme polar regions).
The Football uses Inmarsat BGAN satellite L-band technology giving it superior performance in sever weather compared with much larger satellite systems. BGAN Service is provided for by Ground Control for pre-paid or monthly contracts. Information on BGAN service from Ground Control can be fount at http://www.groundcontrol.com/BGAN.htm
About Ground Control Systems, Inc.
Ground Control is a full-service satellite Internet service provider/manufacturer offering performance grade fixed, mobile, portable and maritime solutions for organizations throughout the world. Ground Control manufactures the Toughsat mobile satellite systems as well as provides connection services for all equipment offered. Clients include federal, state and local governments, educational institutions, oil & gas, emergency and disaster services, fortune 1000 businesses, and numerous professional businesses.
###