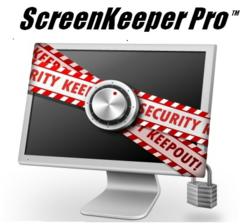 "Screenkeeper provides users and companies the ability to become compliant with privacy requirements, such as HIPAA in Healthcare".
Chicago, IL (PRWEB) June 04, 2011
Direct Source One, Inc, a leading consumer electronics accessory company, today unveiled the Screenkeeper TM and Screenkeeper Pro TM wireless USB privacy device for computer monitors. Described as a "wireless security guard for data displayed on your monitor", Screenkeeper TM transmits a digital signal from a tiny USB plug to a small remote, worn by the user, which blocks out the screen automatically once the user is more than six to eight feet from the computer. The screen stays blocked until the user returns to within the eight ft. range, whereby the wireless link is reestablished and the screen is "unlocked". The system allows anyone to get up and leave their work area without the worry or concern that someone can go into their area and read the information and confidential data that is displayed on the screen. ScreenKeeper TM eliminates the need for a user to shut down their computer when they leave your office for meetings. It will also work with every size computer monitor and laptop that is available in the market.
Screenkeeper TM includes a password override in the event the user forgets their remote and returns to the computer, or if the user gives access to a co-worker to use their computer when they are away from the office.. The product also provides an option of "auto lock down" if there has been no activity on the computer or keyboard for a certain time period. It is compatible with all Windows XP, Windows 7 and Windows Networking systems, as well as with many other Network platform operating systems.
"We are very excited about the launch Screenkeeper TM, where everyday, confidential information is taken from open monitors," said Doug Marrison, President of Direct Source One, Inc. "There is a strong need in the market for this level of protection, and we feel the time is perfect to launch the product."
"By using Screenkeeper, companies and users can become compliant with privacy requirements, such as HIPAA in healthcare," adds Marrison.
Two models are available. Model SP-100 v2.2 is available now, and carries a suggested retail price of only $79.95. Model SP-200 v2.2, also available now, carries a suggested retail of $149.95. It includes a three-position distance selector that provides for more custom performance. Additionally, a multi-user workstation system will be available later this summer. Product information is available at http://www.screenkeeper.com, and on YouTube. http://www.youtube.com/watch?v=T5MOxc73Z4Y
Direct Source One, Inc, located in Suburban Chicago, is a consumer electronics product development and marketing company, with a strong history in wireless device technology.
For more product information, contact them at 847-358-1535, or by email at dougm(at)directsourceone(dot)com.
# # #