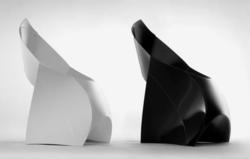 (PRWEB) June 02, 2011
Flux Chairs are an innovative design of foldable chairs unlike anything seen before in the world of furniture. These unique designs have swept through the European scene charming both decorators and consumers and creating a wide demand. eRoomService store is honored to be one of the first to introduce them to an American audience.
The idea for the chair came from a simple piece of paper. It transforms from a flat envelope shape into a beautiful designer chair in two easy folds. Made from polypropylene, it is weatherproof and can be used indoors or outdoors.
Because of its ability to be folded flat, a single chair can be hung on a wall with a strap or a large number of them can be stacked on a flat surface. A stack of 77 chairs will only need a space approximately 39 inches high. More importantly, each chair is capable of holding approximately 350 pounds of weight and has been tested up to 440 pounds, making it safe for nearly any occupant.
The company was founded in 2009 by Tom Schouten and Dauwe Jacobs of Holland. They named it Flux to reflect the idea of change and incorporate the words flexible and luxury. Their mission is to create a new generation of furniture and associated living items. Flux Chairs are the first of their creations to gain prominence in the world of home design.
Recently, Flux Chairs were awarded the 2011 Product of the Year Award at the annual Grand Design Awards show in Birmingham, UK. They were chosen the winner from over 1000 entries. In May 2011, they were shown at the International Contemporary Furniture Fair at the Javits Convention Center in New York City.
The showroom of the eRoomService store of modern furniture is located in the Philadelphia, PA area and is open Monday through Saturday. We encourage you to visit our showroom to see this innovative chair for yourself. While you are there, be sure to check out our other authentic European contemporary furniture.
###