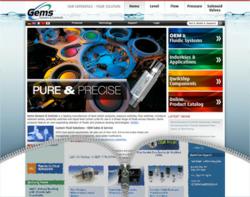 Plainville, CT (PRWEB) June 02, 2011
The newly redesigned website of Gems Sensors & Controls goes live today. GemsSensors.com aims to extend the reach of all Gems sensors and control products, and design and manufacturing services to design engineers developing fluid control systems. The new Website features expanded content, reorganized for easier user access, a more intuitive product selection process, including sorting by sensing type, and application, plus an all-new parametrically-search driven online catalog. Engineers can now find the ideal fluid sensor by specifying such attributes as sensor technology (e.g. electro-optic, conductive, capacitance, buoyancy, etc), wetted materials, pressure and temperature requirements, media type, mounting methods, etc. The redesign incorporates bold colors and graphics and completely new navigational tools.
"Our online visitors will now experience a more vibrant and seamless view of Gems Sensors & Controls and its deep online resources," says John Hurd, sales program manager for Gems Sensors & Controls. "It's an open house that we've streamlined to provide access to our very rich content, making virtual visits to Gems more exciting, useful, informative, and fruitful than ever."
Content Deeper and More Accessible _In addition to a catalog of thousands of sensor products and controls for fluid systems, the new website offers users a vast resource of technical information relating to the application, installation and maintenance, and the technology behind the products Gems manufactures and sells. The site is organized to provide quick and direct access to all of these resources for all audiences. And if a user is not sure exactly where to look for specific information on gemssensors.com, the newly developed site-wide search engine will help.
In addition to the extensive product catalog other features include:
"OEM Fluidic Systems" provides information on Gems special services for requirements of Original Equipment Manufactures. These services include those for special design and manufacturing, and the section discusses Gems development methodology, concept & feasibility studies, prototyping, pilot production and validation, and commercial manufacturing. Gems ISO 9001 and ISO 13485 quality management processes are also found here.
"Industries and Applications" features articles on the variety of applications for which Gems products are ideally suited, and for which Gems has a broad history. Included are discussions of Medical, Alternative Energy, Off-Highway Vehicles, Semiconductor Manufacturing, Marine & Shipboard Service, Boiler Control, and Water/Wastewater Processing.
"QwikShip Components" focuses on the Gems products that are kept in stock and ready for same-day shipping. Engineers and end-users alike can quickly find and order sensor and control products that can be in their hands within a matter of days.
"Online Product Catalog" offers complete access to a broad range of fluid sensing and control products from Gems. The line includes a broad range of sensors for Liquid Level, Fluid Flow, Pressure, Temperature, and Proximity, and controls that include Solenoid Valves and Relays & Barriers.
Note: Access the new Gems Sensors & Controls Website at http://www.GemsSensors.com.
About Gems Sensors & Controls
Founded in 1955, Gems is a preferred supplier to thousands of OEM companies across a broad range of industries through out the world due to its extensive application knowledge, innovative sensor and miniature solenoid valve designs, and customer centric approach to problem solving to meet customer-specific needs. Gems Sensors & Controls is a leading global manufacturer of: liquid level, flow, and pressure sensors; solid-state relays and barriers; liquid and pneumatic miniature solenoid valves; and pre-assembled fluidic systems with facilities in North America, Europe, and Asia. Gems Sensors & Controls is ISO 9001, ISO 13485, UL, and CE certified.
For more product information, contact Gems Sensors & Controls, One Cowles Road, Plainville, Connecticut 06062. Phone: (800) 378-1600. http://www.GemsSensors.com.
###