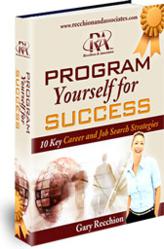 By mastering the 10 Success Strategies...today's job seekers build personal power, career confidence, personal marketing, and take the fast track to career...success.
Phoenix, AZ (PRWEB) June 01, 2011
Available now, "Program Yourself for Success: 10 Key Career and Job Search Strategies" by Gary Recchion, is a must read for those who want to successfully accelerate and manage a "flawless" job search, personal marketing and career development campaign, and take ownership of their work and life, whether unemployed, employed, underemployed, exploring a career change or a recent graduate.
Gary is the Principal at Recchion and Associates, Inc., a full-service executive coaching and career management, training, coaching and outplacement company, where he inspires performance excellence, success, purpose and passion in his coaching, writing and speaking at http://www.recchionandassociates.com
In this book the job seeker will learn to "Program Yourself for Success…." by mastering 10 "Must Strategies" that include:

Taking ownership of one's career direction and this job search. Those in the workforce must take charge of their work and life, create job security, passion and excitement.
Creating the right attitude – Learning the Job Seekers Mantra: Trust, Believe, Do!
The psychology of personal change – 3 stages; how to turn adversity into opportunity and ACCEPT change.
Focusing on one's Brand – self-awareness, values, personal mission, goals and skills exercises; exploring skill transferability.
A unique, "laser focused" resume-building and personal marketing process and the psychology behind this process to build value and on-line brand and marketability.
Learning the importance of market research and analysis, the extra effort that can put the candidate over the top and above their competition.
Developing and managing one's personal marketing campaign by incorporating 4 key marketing plan strategies.
Building relationships, social capital, personal and professional networks and connections.
Studying verbal and non-verbal communication techniques, interview dynamics, and how to respond to the top 20 behavioral, and top 37 traditional interview questions.
4 key actions to "ace" any behavioral interview including: How to create rapport and chemistry; three "must" strategies to gain the edge, build confidence and prepare for the psychology of the interview process; how to sell one's contributions to match the position requirements and build value; one "prep" exercise that is guaranteed to give the interviewee the advantage.
Understanding when the negotiation process begins and what's negotiable. Learn 5 strategies for responding to salary inquiries and 5 steps to preparing a negotiation strategy.
How to create and manage a focused campaign plan with daily/weekly goals; evaluating which strategies are working, which are not.
By mastering the 10 Success Strategies, learning these action steps and more, today's job seekers build personal power, career confidence, personal marketing, and take the fast track to career and job search success. Read some "Rave Reviews!" See http://www.recchionandassociates.com/pyfs-ebook.html
Gary Recchion is a successful writer, coach and speaker with over 20 years in global career development/transition coaching and training. In addition to his E-Book, Program Yourself for Success: 10 Key Career and Job Search Strategies, Gary has authored journal, magazine and on-line articles for Excel, HRPeople, ManagerLink and SelfGrowth.com. To purchase Gary's book and find information about his online classes, individual/executive coaching and corporate training visit http://www.recchionandassociates.com
###