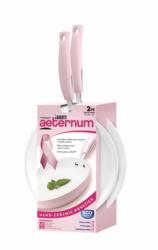 10 percent of all Aeternum Pink sales will go to the National Breast Cancer Foundation.
Rancho Cucamonga, CA (PRWEB) June 01, 2011
Bialetti—the leading Italian coffee and cookware brand known for its forward thinking in both innovation and style—today announced its support for the National Breast Cancer Foundation (NBCF) and its fight against breast cancer.
Bialetti's next generation Aeternum sauté pan will feature a pink porcelain exterior finish with the Aeternum's signature white nanoceramic nonstick interior. The Aeternum Pink is sold as a 2-pack sauté pan set (9.5" and 11") and is available for $69.99 on bialettishop.com and amazon.com. Ten percent of all Aeternum Pink sales will go to the National Breast Cancer Foundation, which is committed to spreading knowledge and fostering hope in the fight against breast cancer.
The Aeternum Pink Cookware incorporates Bialetti's innovative white, nanoceramic technology with its iconic Italian style. Featuring an oven-safe silicone handle, its easy to clean coating paired with a heavy-weight, aluminum coined base and porcelain exterior, provides excellent thermal properties and even heat distribution so dishes are cooked to perfection every time.
Aeternum Pink is also PFOA free and its nonstick coating is applied at a low temperature, leading to a lower emission of CO2 into the atmosphere. In addition, the pan heats up quickly requiring less energy to heat. Plus cleanup is so easy that less soap and water is required, making the Aeternum Pink a "greener" choice that supports a great cause.
About Bialetti:
Bialetti is an Italian brand of stove-top coffee makers and cookware products that's bringing a unique combination of current yet accessible Italian design and quality at every price point. Headquarted in Coccaglio, Italy, Bialetti puts a face on the modern Italian's unique approach to life, with a passion for all things good – style & design, food, friends, family and relaxation. Founded in 1933, Bialetti first came to market in Europe as the creator of the "Moka Express." Today, the company offers an Italian-inspired line of cookware, kitchen tools and gadgets, as well as its wide-range of stove-top coffee makers.
Bradshaw International, based in Rancho Cucamonga, Calif., is a leading marketer of kitchenware products and is the distributor for Bialetti USA. For more information on Bialetti USA, please visit our Facebook page: http://www.facebook.com/bialettiusa.
About the National Breast Cancer Foundation, Inc.
Recognized as one of the leading breast cancer organizations in the world, NBCF's mission is to save lives through early detection and to provide mammograms for those in need. NBCF provides Help for Today...Hope ForTomorrow® through its National Mammography Program, Early Detection Plan®, MyNBCF online social community, Beyond The Shock®, and breast cancer research programs. For more information about NBCF, visit http://www.nbcf.org.
# # #