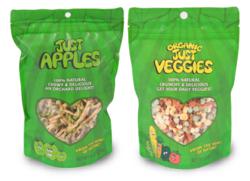 Westley, CA (PRWEB) June 02, 2011
Just Tomatoes, Etc!, family-owned & operated since 1985 by fourth & fifth generation farmers, and a pioneer of 100% natural dried fruits and vegetables, is proud to announce new packaging and a fresh new look. Previously available in small plastic tubs, the new air-tight, zip-lock, resealable pouches provide a longer shelf life and a better option for on-the-go. The new packaging is currently making its way onto retail shelves.
"Just Tomatoes, Etc! is thrilled to introduce its new packaging. We feel the fresh look represents our commitment to healthy eating, but now in an updated, more appetizing way. It also greatly improves shelf life, which is better for our retailers AND our customers. Our all-natural fruits & veggies have long been popular snacks, but with the new packaging it'll be even easier and more convenient to eat them on-the-go.'" said Becky Nannie, General Manager of Just Tomatoes, Etc!
A fresh-from-the-fields, natural look has been given to the packaging, which retains the original playful and whimsical illustrated fruits & veggies that have become icons for the brand. The founding family still runs the company, and maintains the commitment to fresh & healthy snacks that come "From The Heart of Nature.™" Keeping the original brand icons also makes it easy for customers to identify the new packaging on the shelves.
ABOUT JUST TOMATOES, ETC!
Since 1985, Just Tomatoes, Etc! has offered dehydrated fruits and vegetables through health food and grocery outlets nationwide, and now online at http://www.justttomatoes.com. These all-natural products are vine- or tree-ripened, hand-picked at peak condition, washed, cut and then placed in specially designed dehydrators, and dried at low temperatures to preserve color, flavor and nutrients. Conventional and organic offerings are available. All products are kosher. Absolutely nothing is added—no additives, preservatives or sweeteners. And they are always naturally gluten, dairy, wheat and nut free.
###