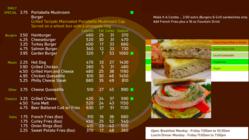 By creatively combining nutritional menu labeling with motion graphics, we produce visually compelling menus to help customers make informed nutritional choices & enhance the dining experience. We call this experience: The Cure for the Menu Bored
Beverly Hill, CA (PRWEB) June 01, 2011
Epicure Digital, a leader in digital menu boards, presents the Epicure Digital Menu System with special emphasis on nutritional menu labeling at the Association for Healthcare Foodservice (AHF) Annual Conference, Arizona Biltmore, Phoenix, AZ, 5-9 June, 2011, Booth #316.
Hospitals nationwide are introducing digital menu boards with nutritional menu labeling in their cafeterias. Among these are University of California, San Francisco (UCSF) Medical Center, Phoenix Children Hospital, University Hospitals in Cleveland, Central DuPage Hospital in Chicago, Hendricks Regional Health in Indiana and Sanford Health in Sioux Falls, all of which are using the Epicure Digital Menu System.
UCSF Medical Center's Moffitt Café was recently featured as the cover story of Food Management, May 2011 and the cover story of the Healthcare Supplement to Food Service Equipment Report, Spring 2011.
According to Dan Hendroid, Director of Nutrition and Food Services at UCSF Medical Center "The Epicure Digital Menu System allows us to cycle parts of the menu as needed...some parts of our menu cycle every 28 days, and others 14 or seven days. The technology lets us handle all the cycles on the same menu board at the same time. The System is a time-saver, and flexible in that it lets us change menus or prices as needed,"
Epicure Digital is revolutionizing the point of sale in restaurants with its digital menu system. "Epicure Digital designs customized digital menu boards that solve our client's complex menu engineering and point-of-sale marketing issues", explained Harvey Friedman, Founder and President. "By creatively combining information and nutritional menu labeling with motion graphics and food photography, we produce visually compelling multimedia menus and promotions to help customers make more informed nutritional choices and enhance the dining experience. We call this experience: The Cure for the Menu Bored™".
Epicure Digital custom designs highly graphical digital menu board systems to solve your complex menu and point-of-sale marketing issues.
Epicure Digital specializes in developing nutritional menu labeling systems to educate and inform customers to make healthier meal choices. These nutritional labels display as nutritional data, nutritional scoring, and icons representing food groups, healthy choices, allergens, vegan, vegetarian, local and organic, whichever and whenever are applicable.
Epicure Digital menu boards help customers become aware of their choices, helping them make the right decision to achieve a balanced life by eating well. These systems provide tools to increase efficiency, revenues and profitability.
Epicure Digital Systems is a digital menu board company uniquely integrating its expertise in software technology and food service operations and marketing to create digital signage products and services for the food service industry. Its core product is the Epicure Digital Menu System. Its core services are menu engineering, nutritional menu labeling, and content creation.
The Epicure Digital Menu System lets operators control LCD menu boards and signage in any number of locations, easily and quickly, online, with customized configurable web templates using Epicure Digital LiveMenu and LiveText user interfaces. Operators can change prices and menus, schedule menus and promotions by day part and menu cycle, and display other information such as nutritional labeling and data, videos, photos, and live feeds from the Internet. Clients operate more efficiently and engage customers in powerful new ways.
Epicure Digital engineers and designs customized digital menu boards for each client that solve their complex menu engineering and point-of-sale marketing issues with multi-screen and multi-station digital menus, signage and greeter board systems.
In new construction, remodeling and renovation projects, Epicure Digital works closely with food service consultants and clients to determine the best digital menu system strategy and participates in the management of the projects from concept phase to full implementation.
Epicure Digital is a Cisco Eco Partner and provides Cisco Digital Media Suite (DMS) compatible digital menu board solutions and utilizes the DMP 4400 players for the Cisco DMS Compatible menu board systems.
Epicure Digital's clients include colleges and universities, hospitals, K-12 Schools, independent and chain restaurants, contract food service companies, business & industry, and cinemas and casinos among others.
The company's website (http://www.epicuredigital.com) has an extensive portfolio of its client's multi screen and multi station digital menu board projects.
Come and see the Epicure Digital Menu System at the following shows:

The Association of Healthcare Foodservice (AHF) Annual Conference, Arizona Biltmore, Phoenix, AZ June 5-9, 2011, Booth #316
The Texas School Nutrition Association (TASN) Annual Conference, Fort Worth Convention Center, Fort Worth, TX, 19-22 June, 2011, Booth #125
The School Nutrition Association (SNA) National Conference, Gaylord Opryland Convention Center, Nashville, TN, July 14-15, 2011, Booth #2330.
The National Association of College and University Food Services (NACUFS) National Conference, Gaylord Texan Resort & Convention Center, Grapevine, TX, July 14-15, 2011, Booth #115.
The National Association of College Auxiliary Services (NACAS) National Conference, Rosen Shingle Creek Resort & Club, Orlando, Florida, October 25-26, 2011, Booth # 228
CSNA California School Nutrition Association Annual Conference, Sacramento Convention Center, Sacramento, California, November 11-12, 2011, Booth #723
For more information, contact:
Tommy Orpaz, 310-652-8246
torpaz(at)epicuredigital(dot)com
###